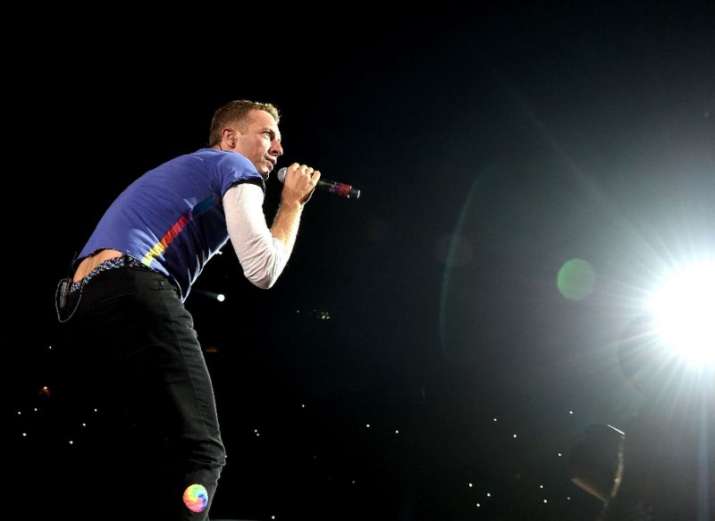 Coldplay's lead singer Chris Martin has run into trouble for allegedly disrespecting the Indian flag during his performance at the Global Citizen Festival India last Saturday.
Two separate complaints against the singer accuse him of hurting religious sentiments of Indians and disrespecting the Indian national flag.
In a complaint filed by Nationalist Congress Party (NCP) spokesperson Nawab Malik, Malik sites a video grab where the frontman of the British band was seen performing at the mega event with the tricolour tucked in the back pocket of his pants.
Malik says he wants the singer to apologise. He said that Chris 'disrespected' the flag in presence of leaders of Bhartiya Janta Party and Shiv Sena.
In another complaint, Gaurav Gulathi, a Delhi-based advocate, has filed a complaint at north Delhi's Roop Nagar Police Station on Tuesday against the band for allegedly dishonouring the Indian national flag during their performance at the Global Citizen Festival in Mumbai.
In his complaint, Gulati says, "They can be seen to dishonour our National Flag by tying it on the back of his jeans and dancing in objective positions. In the video, it can be seen that the band had used our Indian National Flag to cover their musical instruments."
Gulati wants an FIR lodged against Martin and the band for dishonouring the flag during their performance.
The Global Citizen Festival ran into many controversies right from the day it was announced. Initially, it was the reported high priced tickets that brought out the sense of humour in netizens. Next, the opposition in Maharashtra said that ruling BJP was using this concert for benefits in upcoming municipal polls.
If that was not enough, a PIL was filed by two activists in the Bombay High Court. The PIL asked the court to stay the event since entertainment tax was waived off from it. The court, however, ruled against the PIL, giving green signal to the event.
The event, aimed at spreading awareness about poverty, sanitation etc., was attended by around 80,000 people. Apart from Coldplay, the eight hour long event saw performances from Jay Z, The Vamps, Demi Lovato and from Bollywood personalities like Ranveer Singh, Sonakshi Sinha, Amitabh Bachchan and Shraddha Kapoor. The event ended on a high note with Chris singing 'Vande Mataram' with iconic musician A.R. Rahman. 
Prime Minister Narendra Modi was also supposed to attend the event but he couldn't. He compensated for his absence by addressing the crowd with a video conference.