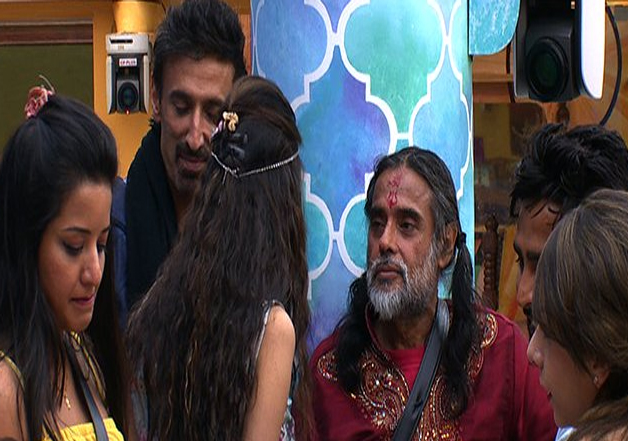 The inmates of the 'Bigg Boss 10' house have another reason to be mad at self proclaimed Godman Swami Om. It is because of him that Bigg Boss will not give any luxury budget points to the contestants.
In tonight's episode Bigg Boss will congratulate the inmates for performing well in the luxury budget task. But he will soon add that despite the performance they won't get points for the same. He will tell that since Rahul Dev and Om Swami didn't stay together in bandhan, the rest of inmates will suffer too.
Disappointed with this, the inmates will ask Bigg Boss to not punish them and blast at Swami Om. Even the rude words of the inmates will have no affect on Swami Om.
Apart from this, the premises of Bigg Boss will turn into a battleground with contenders Bani J, Lopamudra Raut and Manveer Gujjar fighting for captaincy. The three will be asked to hold to a captaincy ring for as long as possible. The last man standing would be the captain of the house.
However, this task is not easy as it seems. Bigg Boss will give contenders freedom to do whatever they can to force the other person leave the ring. This will lead to a huge fight among Bani, Lopa and Manveer. After spending an ample amount of time holding the ring, the three will get tangled.
Watch the video here:   
An interesting task for captaincy coming up between #ManveerGurjar, @lopa9999 & @bani_j tonight! Watch #BB10 #video! https://t.co/bpdtXzidqz

— Bigg Boss (@BiggBoss) December 15, 2016
#ManveerGurjar, @lopa9999 & @bani_j tangle themselves in the captaincy task! More in #BB10 #video! https://t.co/k4qIOb7nXg

— Bigg Boss (@BiggBoss) December 15, 2016