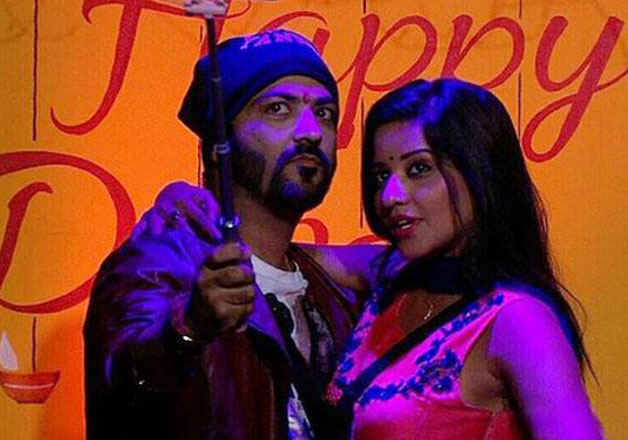 Bigg Boss 10 contestant Mona Lisa's boyfriend Vikrant Singh Rajpoot has broken his silence over her growing closeness with housemate Manu Punjabi and admitted that it is quite an awkward situation for him.
Mona and Manu's flirty chemistry had bagged a lot of attention on Bigg Boss 10 since day one and it was touted that they were the couple of this season.
In fact, Mona's peck on Manu's cheek on camera added fuel to the fire.
Distressed over it, Mona's boyfriend stated that he just not approve this kind of a behaviour by his lady love.
Interestingly, Mona and Vikrant are said to be tying the knot soon. However, her increasing proximity with Manu has left Rajpoot in fix and he is reconsidering his decision of marriage.
"We were supposed to get married, but now, I am confused", Vikrant told a leading daily.
He even averred that he had already warned Mona about not doing any such thing on national TV and befool the audience.
"I told her Veena Malik jaisa kuch nahin karna because the public is smart and cannot be fooled", Vikrant added.
However, Singh also asserted that while he knows this intimacy is a part of the drama, he will discuss about it with Mona post her exit from Bigg Boss 10.
While Mona-Manu's sizzling bond has managed to raise the TRP levels of Bigg Boss 10, it is indeed taking a toll on the actress' love life as well.
We wonder, if Mona, post her exit from BB10, be able to justify her acts on the show to Vikrant and his family.