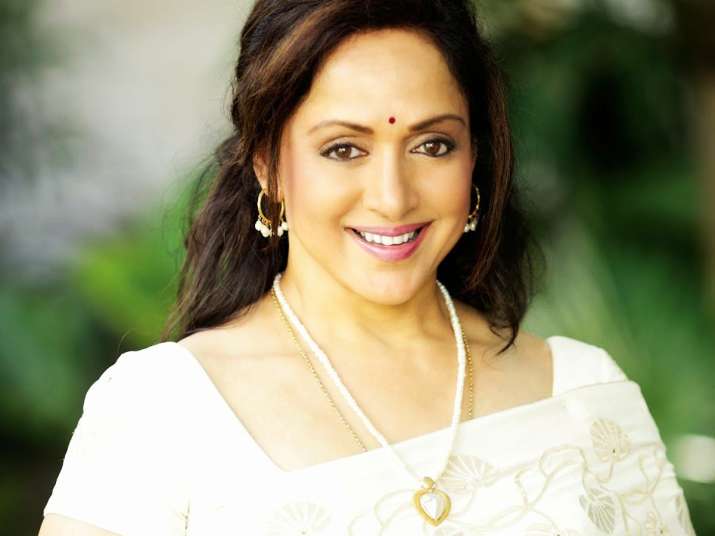 Veteran actress Hema Malini turned 69 yesterday and during the launch of her autobiography Beyond Dream Girl, the lady talked about her equation with her step-sons Bobby Deol and Sunny Deol. When the author of the book Ram Kamal Mukherjee started the conversation saying that media wants to know this question, Hema understood what he was going to ask and she interrupted him. She then stated that her relations with Bobby and Sunny are very beautiful and cordial.
The actress went on to say that when she met an accident, Sunny was the first person who came to meet her. He made sure if the right doctor was taking care of her adding that she was taken aback with his gestures.
Yesterday, the autobiography of the actress was launched by actress Deepika Padukone and many celebrities attended the event. Hema's daughters Esha Deal and Ahana Deol were also present. At the end, Deepika read out a letter penned down by filmmaker Yash Chopra's wife Pamela Chopra, who praised veteran actress to heights. In an audio-video presentation, 50 Bollywood celebs were seen giving best wishes to the actress. 
50 celebs in one video: Wishes for Hema Malini on 69th birthday
From Amitabh Bachchan to Arjun Kapoor, Vyjayanthimala to Kriti Sanon, Lata Mangeshkar to Ustad Amjad Ali Khan, Neeta Lulla to Shiamak Davar, Ramesh Sippy to Madhur Bhandarkar -- as many as 50 celebrities are a part of a special video to be played at the launch of actress-politician Hema Malini's biography here on her 69th birthday on Monday.
The launch of the book "Beyond The Dreamgirl", by former editor of Stardust and producer Ram Kamal Mukherjee, also marks the celebration of Hema Malini's glorious run of 50 years in Indian showbiz.
"While we were planning the book launch on her birthday, we realized that Hemaji will be completing 50 years in this industry in 2018. So we decided to make it special for her, and took this Herculean task to get 50 celebrities to wish her on her biography, birthday and golden jubilee year," Mukherjee said.
"It will be a very big surprise for Hemaji, because we have recorded bytes from people whom she would probably not expect," he added.
The video campaign was spearheaded by Aritra Das from Assorted Motion Pictures. He roped in five media students -- - Christopher Noel D'Souza, Riona Mariette Gomes, Iqra Laique, Vadin Gear and Savio Gerhert -- from Don Bosco Mumbai, to work on this project.
The video will be played at the launch of the book, which is published by Harper Collins India, and comprises her journey since childhood to her recent political sojourn as a BJP MP of Mathura.
Prime Minister Narendra Modi has penned the foreword for the book, while the afterword is by Ramesh Sippy, who directed her in the iconic role of Basanti in "Sholay".
Songstress Lata Mangeshkar has said: "Hema is like my younger sister. I have always admired her for her grace and beauty. Recently, she shared her music album with me. I was surprised to hear her voice. She is so melodious. Wishing her long and healthy life."
Actress Vidya Balan said: "Hemaji you have set really high benchmark for all of us. 50 years in this industry is not an easy number to achieve."
Arjun said: "You have been our inspiration. I have fond memories of you as a kid, as we grew up with Esha and Ahana."
Having started her film career in 1968 with Raj Kapoor-starrer "Sapno Ka Saudagar", Hema regaled movie buffs with roles in films like "Seeta Aur Geeta", "Sholay", "Dream Girl" and "Satte Pe Satta". An accomplished classical dancer, Hema Malini earned the epithet of 'Dreamgirl' for her flawless beauty, and became a pioneering female superstar in an otherwise male-oriented film industry.
(With IANS inputs)