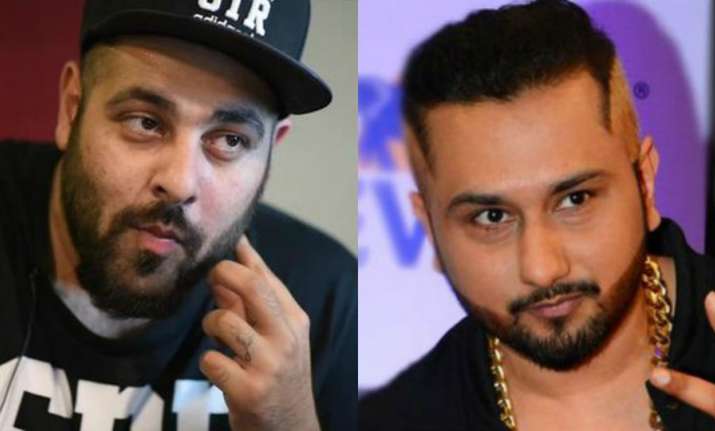 His recent song 'Kala Chashma' has become the favourite number of clubs and weddings making rapper Badshah happy. On such a high pedestal of stardom, Badshah feels people do wrong with him by saying he became successful only because his contemporary Yo Yo Honey Singh was absent from the scene.
Badshah told to a leading daily that it hurts him when people don't see his hardwork and give credit to Yo Yo Honey Singh's absence for his accomplishments.
"I can get away by saying that I don't get affected by all this, but honestly, farak padta hai (it does affect me). When someone says I became famous only because Honey bhai wasn't on the scene, I feel bad. It feels like my work has no credibility," said Badshah.
Rapper Yo Yo Honey Singh was on 18-months long break from the music industry. On his comeback the rapper revealed that he was suffering from bipolar disorder. He had said, "I must confess I was bipolar and an alcoholic, which aggravated the condition"
Few of Honey's fans said that Badshah rose because of the former's fall. Badshah, obviously begs to differ.
Badshah who has hits like 'Kar Gayi Chull', 'Abhi Toh Party Shuru Hui Hai' and 'Wakhra Swag' to his name said that he has been grateful that he got to work with big stars.
"Yes, I've been lucky to work with some of the biggest stars in the film industry, but I've worked hard and fans have loved my music... And it's not like I came in after he (Yo Yo) left. I was there when he was in the industry and delivering hits even then... (But) I have no grudges against anyone. I just want to focus on creating more music," he added.
Speaking about the reception that 'Kala Chashma' got, Badshah said that he is overwhelmed. This 'Baar Baar Dekho' song is a reworked version of the hit 90's number by Amar Arshi.
"I didn't expect it to become so big. There was a lot of pressure and I didn't want to ruin the classic so I had to be careful with it," said Badshah.
As it turns out, he did justice to the classic.