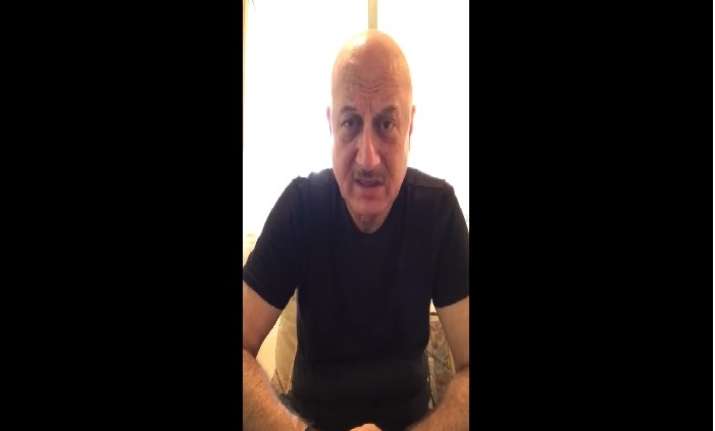 The veteran actor, Anupam Kher strongly condemns the video in which a mob of stone-pelters in Kashmir are roughing up the CRPF personnel. He posts a video on Twitter asking the true Indians of the country to react to the video. 
As a peace loving person I may applaud our soldiers for their restraint. But I still want to say, "Don't take panga with our soldiers."🇮🇳 pic.twitter.com/VN0nH0AqDx

— Anupam Kher (@AnupamPkher) April 14, 2017
In an interview with ANI, Anupam Kher commented on the shameful incident, ""I could not see the video after the first three seconds because I was getting really angry and upset. But then I realized as a true Indian it is my duty to see it, react to it and get out of my comfort zone and speak about it. It's unforgivable, what has happened. I always believe that the rules we apply in the home, should be applied in the country too. Even if your neighbor comes and hit your brother or sister, your family will surely take action and react to it, so why can't we do it when such a thing has happened to our CRPF jawans. It is our duty to react to it. Can you imagine what his family must be feeling? He was carrying a gun, it could have been the easiest thing for him to react to it. They were hindering in his peace zone, it is an act of cowardice. I salute the soldiers who did not do that."
"Not everyone feels the same about the army, but there some people who wanted the video to get viral and to get a reaction from us was their sole purpose," he added.
Had this soldier used his gun it would've become human rights violation?Then what's this?Should've given the"azaadi"right there!Very angry!! pic.twitter.com/j22Ol9Jigx

— Randeep Hooda (@RandeepHooda) April 13, 2017
The video features a CRPF personnel using immense restraint even when he is attacked by the youth.
Kher further shared that it is everyone's duty to react to such an incident.
This is Unacceptable ! Cant do this to our CRPF jawaans .This rot has to stop. Badtameezi ki hadd hai. pic.twitter.com/rZbqGbXk6O

— Virender Sehwag (@virendersehwag) April 13, 2017
"It is everyone's duty to condemn this act. Anyone who takes this nation as his family and if the person cannot accept such behaviour with their actual families, it is their duty to not just sit but condemn or react to such issue."
The actor also applauded cricketers Virender Sehwag, Gautam Gambhir and fellow actor Randeep Hooda for speaking their minds about the matter.