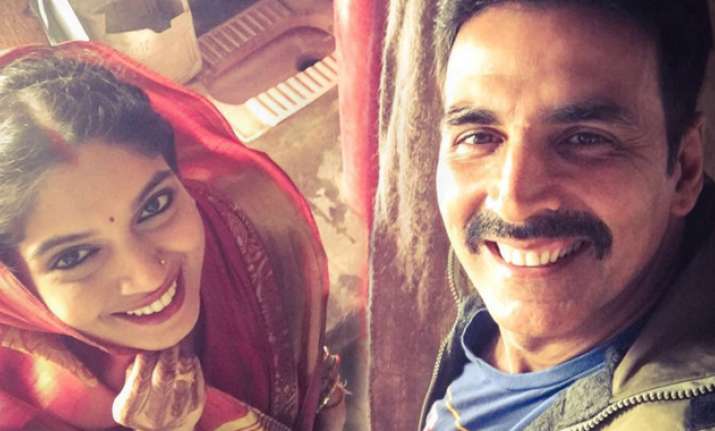 A Mathura based religious leader has offered to give reward of Rs 1 crore to anyone who brings the tongue of director of upcoming movie 'Toilet: Ek Prem Katha', suggest media reports.
The movie's storyline and title has reportedly offended saints of Mathura who have threatened to stall the shooting in the Braj region, if their demand of change in plot and name of the movie were not met.
Saint Behari Dass Maharaj, in a Mahapanchyat held yesterday, demanded the producer to change name from 'Toilet: Ek Prem Katha' in his presidential address.
Another Saint Mahamandleshwar Nawal Giri Maharaj suggested that the movie be titled 'Toilet – A Swachhta Abhiyan' to give a clear message to the society. Speaking on the occasion, Mahant Haribol Maharaj bashed makers for having such a title in a land where Radha-Krishna lived.
The movie is currently being shot in villages, Nandgaon and Barsana and is said to violate old age traditions of the places. Reportedly, the movie shows a marriage union between residents of these two villages, contradicting the traditions that have been followed since the time of Lord Krishna and her beloved Radha.
Earlier, few locals had got a whiff of the movie's plot when they overheard a dialogue, 'Nandgaon ka chhora and Barsana ki chhori' during shooting that had caused a stir.
Mahant Swami Adityanath Maharaj in his address pointed out that even Muslims living in these two places respect the no-marriage policy.
Later in the day, director Narain Singh held a press conference to address the problems, where he refuted reports of the movie hurting religious sentiments. He reportedly said that the movie was  being filmed in these places, but it doesn't mention Nandgaon anywhere. He added that the movie was about women empowerment.
"Barsana is chosen for communicating this message through 'lath-maar' Holi since Mughal period," Singh was quoted by a daily.
On a related note, only yesterday the protagonist of the movie actor Akshay shared pictures of him reaching the location on helicopter. In fact, many of his fans thronged the helipad as he arrived.  Set for a release next year, the movie also stars Bhumi Pedenkar.
And this is your Captain Mr. Kumar speaking...can you guess where are we heading 😉 #EverydayIsAnAdventure pic.twitter.com/WYG4qv1PR8

— Akshay Kumar (@akshaykumar) November 21, 2016
Arriving at our destination Nandgaon in a few minutes for the shoot of @ToiletTheFilm! Meanwhile enjoy the aerial view 😁 Jai Shree Krishna🙏🏻 pic.twitter.com/W5RYFbM9W9

— Akshay Kumar (@akshaykumar) November 21, 2016