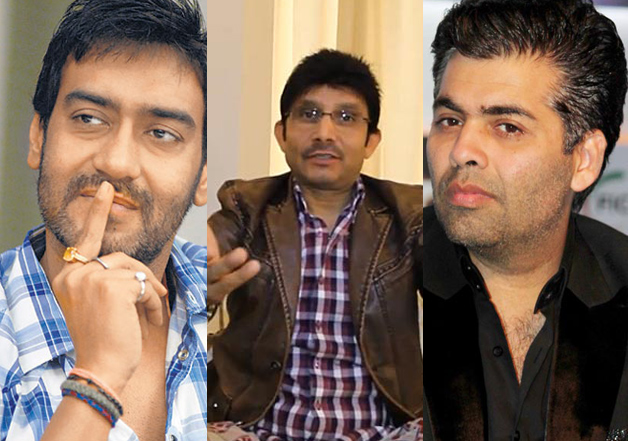 The box office clash between two highly talked about movies 'Shivaay' and 'Ae Dil Hai Mushkil' took an ugly turn yesterday with the involvement of actor Kaamal Rashi Khan aka KRK. Ajay Devgn who is directing, producing and acting in 'Shivaay' alleged that Karan Johar, the director of 'Ae Dil Hai Mushkil' paid Rs 25 lakhs to KRK to bad mouth the former's movie. But now, KRK has taken a U-turn in the entire fiasco and has said that it was Ajay who paid him money to promote 'Shivaay'.
While people were still wrapping their heads on the matter, KRK's claim seems to have added to the confusion.
In a series of tweets, KRK said that Kumar Mangat (Ajay's close friend) and Ajay Devgn offered him money to bash 'Ae Dil Hai Mushkil'. Here are his tweets:
Late last evening, Ajay Devgn released a audio clip of a conversation between KRK and Kumar Mangat in which the former accepted that he took Rs 25 lakhs from Karan Johar to praise ADHM.
Ajay also released a statement in which he said that it pains him to see that people like KRK are holding the film industry at ransom by spreading negativity.
'It is very sad that people from our own industry are supporting such elements and spoiling the ethos of the film industry. I would strongly demand that this be thoroughly investigated by competent authorities to clarify if Karan Johar was indeed involved in this,' read the statement.
KRK standing true to his image of never being quiet when bashed by others told a leading daily,
"Please listen to the tape properly. He called me to complain that I said bad about Shivaay and I said that nothing like that. He was complaining again and again that I am praising Ae Dil Hai Mushkil while other critics have said bad about it. Still I said that no I am not supporting Karan. But Kumar Mangat was still complaining that I am favouring Karan when I am Kumar's friend. So to close the topic and avoid Kumar Mangat I said that I am favouring Karan because he paid me 25 lakhs. But Karan has not paid me anything. Please note we both were talking about favouring on Twitter only, not about reviews. Nobody can buy my review, whoever is he. Kumar Mangat Ne Dost Hokar Dhoka Diya hai, recording Ki Hai Jo Dosti Main Nahi Karni Chahiye. It shows that he is a bad person n worst friend (sic)."