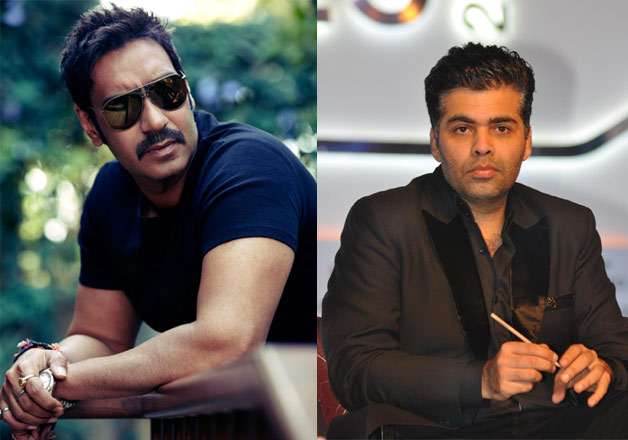 It's an all out war between Ajay Devgn and Karan Johar. Ajay Devgn Thursday released a recorded audio tape which allegedly had Kamal Rashid Khan's voice confessing that Karan Johar paid him Rs 25 lakh to slam Shivaay and spread good words for Ae Dil Hai Mushkil.
Kamaal R Khan, better known as KRK, has been bad-mouthing about Ajay's "Shivaay" on Twitter which is clashing with Karan's "Ae Dil Hai Mushkil".
Hear what self proclaimed no. 1 critic and trade analyst Kamaal R Khan has to say. https://t.co/wRc7moSlsZ

— Ajay Devgn (@ajaydevgn) September 1, 2016
Distressed with this incident, Ajay has released an official statement asking the concerned authorities to investigate the matter and see if Karan is involved in this scandal.
"I have been a part of the Indian film industry for the past 25 years and have been associated with over 100 films. My father was a professional action director and I have an emotional connection with this industry.

It therefore pains me to see that people like Kamaal R Khan are holding the film industry to ransom by spreading negativity about films to extort money from producers.

It is very sad that people from our own industry are supporting such elements and spoiling the ethos of the film industry.

I would strongly demand that this be thoroughly investigated by competent authorities to clarify if Karan Johar was indeed involved in this", Ajay's official statement stated.
On the other hand, KRK has rubbished Ajay's claims, saying KJo never asked him to bash 'Shivaay'.
Sir @ajaydevgn 2-4 Dafaa Aaraam Se Suniye Isko Thande Dimag se, Aur Samajhye Ki Maine Kaya Kaha. Lol! Exposed😛 https://t.co/2iWMWeq3eW

— KRK (@kamaalrkhan) September 1, 2016
Let me clear it. Karan Johar has never paid me or asked me to bash #Shivaay n you can hear it in the tape. I said 25 Lakhs to avoid Kumar.

— KRK (@kamaalrkhan) September 1, 2016
Interestingly, the incident hasn't gone down well with the Twitterattis who have targettd both KRK and Karan Johar on the micro blogging site Twitter.
Y any one wants to give Saddak Chap 2rs KRK 25 lakhs to promote his film?
R people gone mad..no one takes this idiot seriously😂 #KRKExposed

— Viral Khimesra (@ViralKhimesra) September 2, 2016
crap like u don't deserve any attention from @ajaydevgn but he still spared time in the benifit of #FilmIndustry #KRKexposed

— Amit Aashoo (@amitaashoo) September 1, 2016
What I don't understand is why @karanjohar paid #KRKExposed of all people to badmouth #Shivaay...Man KRK shld pay you for making him famous!

— Ananya Ghosh (@ananya1281) September 2, 2016
Hahaha This is brilliant, Suprising is @karanjohar gives 25L to this 2Rs. Person @kamaalrkhan ! #KRKExposed https://t.co/SeWNOoCH48

— Tejas Barot (@imTejasBarot) September 2, 2016
Apparently, Ajay and Karan had been on the logger heads ever since the latter announced the release date for ADHM which will be clashing with 'Shivaay'.
Both the movies are scheduled to release on Diwali. While Devgn wanted his 'Shivaay' to be a solo release, he got miffed with KJo for initiating a clash.
But with this audio clip getting leaked, this box office clash has turned ugly with Ajay Devgn on one side and Karan Johar-KRK on the other.
We wonder what Karan Johar has to say in his defence.