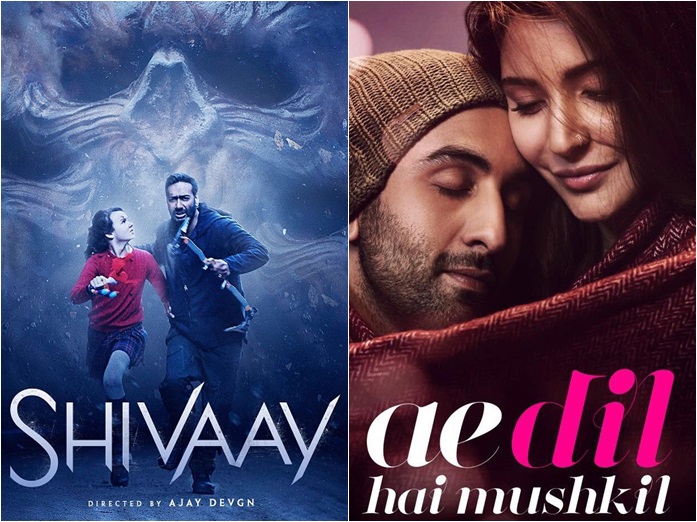 Ajay Devgn's "Shivaay" and Karan Johar's "Ae Dil Hai Mushkil" finally hit the silver screens today after much hullabaloo. 
"Ae Dil Hai Mushkil", starring Ranbir Kapoor, Aishwarya Rai Bachchan and Anushka Sharma, created headlines for featuring Pakistani actor Fawad Khan.
The release of ADHM was in trouble when the producers' association, theatre owners and MNS workers demanded a ban on the film. However, Karan offered to donate Rs 5 crore to the army welfare fund and managed to get the release back on track.
On the other hand, "Shivaay" has been in buzz for showcasing scenic locales of Bulgaria, Mussoorie and Hyderabad and portraying Ajay a larger-than-life superhero.
Now, let's see how audience has reacted on micro-blogging site Twitter after watching these films on big screens.
Shivaay
​
Action, emotions & drama #Shivaay has it all..Watch it on Big screen to experience the chills. Must 4 all @ajaydevgn fans

— Nishant Bhuse (@nishantbhuse) October 28, 2016
Superlative Action + Father Daughter Emotions + Fab Locations + @ajaydevgn 's entry sequence + Abigail's Performance = #Shivaay 👌👏💪#RjAlok

— RJ ALOK (@OYERJALOK) October 27, 2016
#Shivaay huge film . actions never seen before . u can see #Shivaay for action even

— parag Chhapekar (@paragchhapekar) October 27, 2016
Amazing visuals, breathtaking stunts, heartwarming emotions & @ajaydevgn in top form. A film for every father & every daughter #Shivaay

— Kunal M Shah (@iamkunalmshah) October 28, 2016
Thank you @ajaydevgn for making us believe, even we can. Breathtaking stunts/visuals/emotions. An A to Z of Cinema #Shivaay

— vajir k singh (@vajir) October 27, 2016
Just watched #Shivaay
1-Line Review
If you love your DAD
Then plz Go & watch SHIVAAY
Must Must Must watch movie@ajaydevgn @Mithoon11
🙏🙏🙏🙏

— Prince Chauhan (@Prince1Chauhan) October 28, 2016
Ae Dil Hai Mushkil
Watched @karanjohar #ADHM stellar performance by our #Indian #actors @AnushkaSharma @ARBacchan and #ranbir @chintskap

— Shaina NC (@ShainaNC) October 25, 2016
Saw Ae Dil Hai mushkil. Ranbir Kapoor is freaking amazing. @AnushkaSharma is killer. Aishwarya never looked so beautiful! Well made movie!

— Kamran Musstafa (@kami3012) October 27, 2016
This man is killing it #Ranbir wowww wat a humour man .. died of laughter in the first half an hr itself#Aedilhaimushkil

— MURALI ™ (@Murali_tweetz) October 28, 2016
Ajay Devgn managed to impress all with his jaw dropping performance in the film. But, the story line is not so appealing. "Shivaay" is not the light, fun, crackerjack Diwali film you'd like to sit through this festive season.
On the other hand, KJo's "Ae Dil Hai Mushkil" is clearly a multiplex film which portrays the story of love, friendship and breakups. The film gets full marks for its locations and actors, especially Ranbir for his intensity.
But, if you are a Fawad Khan fan, then his meager presence and sketchy role would infuriate you.
Both the films have released in almost 3000 screens and with the way the films are making a buzz among the audience, both the films are expected to post good figures at the box-office in opening Diwali weekend.