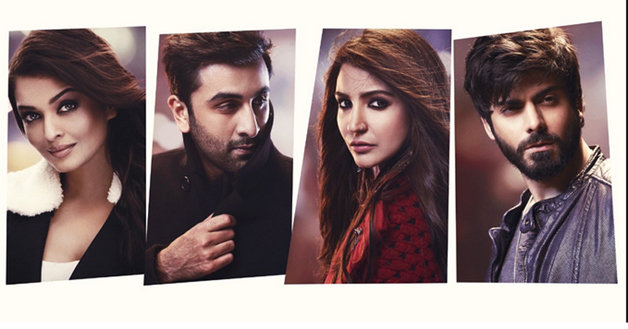 The teaser and the title song of 'Ae Dil Hai Mushkil' have sparked quite a rage on social media. Almost everyone is in awe of the teaser which is full of serene locales and gorgeous actors.
Karan Johar, the director of the movie has ensured that nothing much is revealed about the storyline from the teaser. But a look at it confirms that it is a love triangle. Actors Ranbir Kapoor, Aishwarya Rai Bachchan, Anushka Sharma and Fawad Khan have upped the excitement of the cine buffs.
With October 28, the release date of the movie being far away, it is going to be difficult for fans to wait for the movie. For those excited fans, we have some good news.
While you may be tearing your hair apart to know what all these good-looking and talented actors play in the movie, we may have few answers.
Karan Johar during a recent interview revealed few details about the characters. He said,
"They're complicated, without saying too much. And they are immensely progressive characters," Karan was quoted by a leading entertainment portal.
Speaking about Ash's character he said,
"Know that Aishwarya has never ever played a part like this. She plays a poet who isn't a very good poet, and so she is aware that she isn't as respected in her community of poets. This is partly because she is too beautiful to be taken seriously and because she isn't a great poet. She comes from a situation of heartbreak herself."
Explaining Anushka's role the ace filmmaker said that she comes from a compex background.
"Anushka comes from a dysfunctional family. Everyone has a broken hearted situation in some way. I have to say, though, that they are both incredibly strong and complex women characters, while being completely different in terms of character goals,"
Karan added.
Reports in the media have it that Ranbir's character falls in love with Aishwarya post the death of her husband. It is being said that superstar Shah Rukh Khan plays the role of Ash's husband in the multi-starrer.
A media report in a leading daily suggested that Ranbir is happy in relationship with Anushka, but cheats on her with Aishwarya. What happens in Ranbir's life is what forms the crux of the movie. The report, however, did not dole out at what phase of Anushka's life Fawad Khan's character steps in. October 28 will have all the answers.