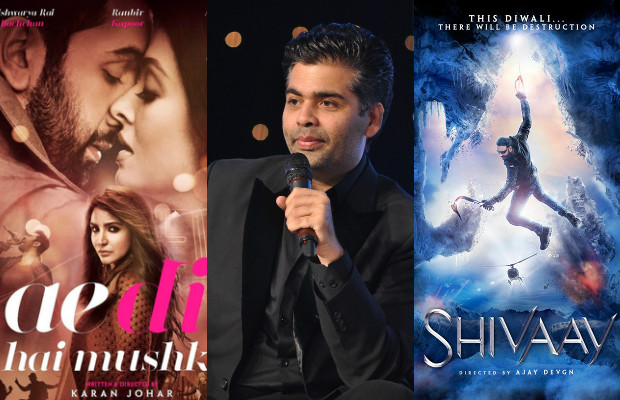 The Cinema Owners Exhibitors Association of India (COEAI) today announced that they will not screen any movie starring Pakistani actors. This biggest affect that this decision will have is on the Karan Johar's directorial 'Ae Dil Hai Mushkil' which features Pakistani actor Fawad Khan in a pivotal role. The movie is only two weeks away from release and this is going to be a huge setback for it.
The presence of Fawad Khan could have proved to be a major crowd-puller for the movie but over the recent time it has turned into a bane. This blow will definitely affect the movie's collections.
Roughly made on a budget of Rs 50 crore, if 'Ae Dil Hai Mushkil' doesn't release, producer Dharma Productions, and distributor Fox Star Studios will have to face the heat.
As it is, 'Ae Dil Hai Mushkil' was not getting a solo release. It was going for a head on collision at box office with Ajay Devgn's 'Shivaay'. According to recent media reports, Ajay Devgn struck a deal with screen and will open to around 3,000 screens. The supposed ban will obviously give 'Shivaay' a windfall gain.
After the news of ban came, an exhibitor told a film journalist that 'Shivaay' was slated to do better business than 'Ae Dil Hai Mushkil' in every case. Ajay's latest statements supporting the ban on Pakistani artistes may furthermore contribute towards larger footfalls in theatres.
The ban on four states has however got Karan the support of many renowned personalities from film industry. Reportedly, Central Board of Film Certification's chief Pahlaj Nihalani has said that no one has the right to ban Karan's movie adding that the decision is only against him. He also backed KJo saying that Fawad was cast in the movie when relations between India and Pakistan were not sour.
Reportedly, filmmaker Mahesh Bhatt too has lent his support to Karan saying that the country should not be run by moods of a few.
With clouds of uncertainty hovering over the release, will Karan's ambitious project meet a sad end? Only time knows.