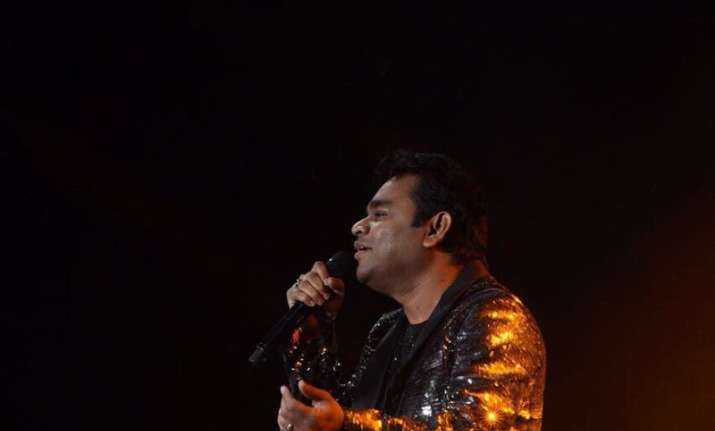 AR Rahman's IIFA Rocks concert, which saw the crowd groove to the Oscar and Grammy winner's popular Hindi and Tamil tracks, was proof that music trumps all language barriers.Rahman brought the audience to its feet with his Tamil hits "Urvasi urvasi" and "Humma humma", a scene so different from his recent UK concert for which he was trolled on the social media by concertgoers who felt there were too many Tamil songs.There was a demand for an encore even after he regaled the crowd for almost two hours.
"What? Once more... I can't hear you... Isn't it too late?," Rahman said on the stage before taking up the mic again to sing "Humma humma".
He performed his Oscar-winning hit track "Jai Ho" as the lighting on the stage changed to orange, green and white.
"I am thankful to you all for coming and supporting the concert... love you," he said.
The musical extravaganza, which is part of the International Indian Film Academy (IIFA) awards events, celebrated 25 years of Rahman's glorious journey that began with the success of "Roja" in 1992.
Regaling the audience with his evergreen tunes. A memorable IIFA ROCKS indeed! Kudos to the magician behind the show! @arrahman #IIFA2017 pic.twitter.com/crddlzJcGs

— IIFA Awards (@IIFA) July 15, 2017
Rahman, 50, was joined by Diljit Dosanjh, Benny Dayal, Javed Ali, Neeti Mohan, Jonita Gandhi and Haricharan Seshadri at the MetLife stadium.
The music maestro teamed up with Mohit Chauhan to croon "Nadaan parindey" while Neeti Mohan and Hariharan joined him for a duet on "Bin tere kya jeena" and "Mere paas hai tu", respectively.
The other hit numbers from his vast repertoire were "Dil hai chota sa", "Agar tum saath ho", "Aye hairathe", "Tere bina" and "Tanha tanha".
Punjabi star Diljit's songs "Ek kudi" and "Patiala peg" and Mika Singh's energetic performance brought the audience to their feet.
"I am feeling very happy and proud that he (Rahman) called me here. Make some noise for Rahman sir. Love you all," Mika added.
"I thank him for being an inspiration. I am honoured to be here," Jonita said.
Rahman, who recently composed the music for Sachin Tendulkar's biopic, asked the crowd, 'do you like cricket.. do you like Sachin?', before singing the title track of the film as the master blaster's photograph was displayed on the screen.
(With PTI Inputs)
Read More
IIFA 2017: Shah Rukh Khan's movie Fan bags Best Visual Effects Award
IIFA Awards 2017: This video of Alia Bhatt singing with Riteish Deshmukh and Manish Paul goes viral
For more Bollywood updates, follow our Facebook page