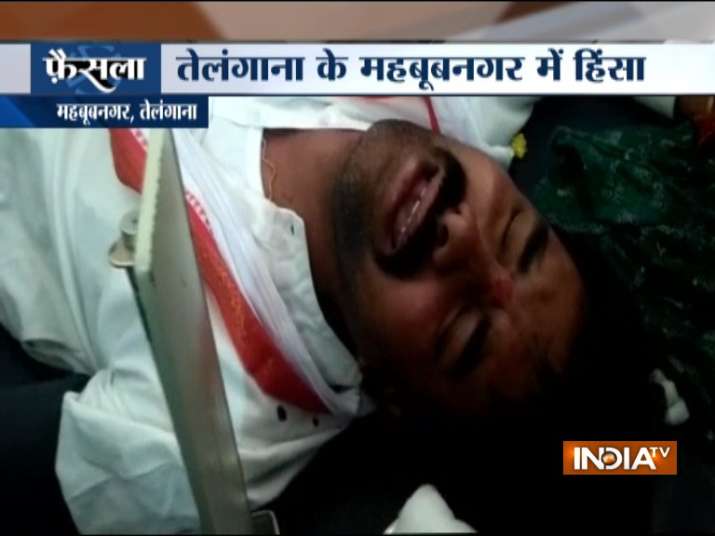 Telangana Assembly Election 2018 HIGHLIGHTS: About 70 percent of 2.8 voters votes in the Telangana Assembly election on Friday as the polling ended on a peaceful note, barring minor incidents. Polling ended in 106 constituencies at 5 p.m. but those standing in queues were allowed to cast their votes. The exact poll percentage will be known after receipt of detailed reports from the districts, officials said in Hyderabad. Some 56.17 per cent voters had voted by 3 p.m. Polling ended in 13 constituencies affected by Maoist violence at 4 p.m. This is the first full-fledged election in India's youngest election. In the 2014 elections held in united Andhra Pradesh, Telangana had registered a voter turnout of 68.9 percent. The polling, which began on a dull note at 7 a.m., picked up after 9. Long queues of voters including women were seen especially in rural areas. Chief Electoral Officer Rajath Kumar said barring sporadic incidents, the polling was peaceful and smooth in all 32,815 polling stations across 31 districts. In some polling centres, the process started late due to technical glitches in Electronic Voting Machines (EVMs). Of the total electorate, nearly half are women. There were 1,821 candidates, including Chief Minister K. Chandrashekhar Rao and his 14 cabinet colleagues.
Tight security arrangements have been made at all 51,796 polling stations of Telangana, where the political fortunes of 1,821 candidates will be decided in 119 constituencies in the first election after the state was formed. Election authorities have made elaborate arrangements for a smooth conduct of the polling process in 32,815 polling stations. 
Telangana Assembly Election Voting | HIGHLIGHTS:
# Around 70% voter turnout recorded till 5 pm.
# 60% voter turnout recorded till 4 pm.
# 56.1% voter turnout recorded till 3 pm in Telangana Elections 2018.
# Telangana: Caretaker Minister KT Rama Rao cast his vote at a polling station in Hyderabad earlier today
# Clash between BJP, Congress workers in Mahbubnagar. Kalwakurthy Congress candidate Vamshi Chand injured, hospitalised 
# Voter turnout recorded till 1 PM in Telangana Elections 2018 is 49.15%
# Telangana: BJP MP Bandaru Dattatreya casts his vote at booth no.229 in Ramnagar of Musheerabad constituency in Hyderabad​
# Sania Mirza cast her vote at Film Nagar Cultural Center in Hyderabad 
# 23.4% voter turnout recorded till 11.00 am
# Voting turnout recorded till 9:30 am in Telangana is 10.15% 
# TRS MP K Kavitha stands in a queue to cast her vote at polling booth no. 177 in Pothangal, Nizamabad
# Actor Chiranjeevi stands in a queue to cast his vote at polling booth no. 148 in Jubilee Hills, Hyderabad
# Asaduddin Owaisi casts his vote at polling booth no. 317 at Mailardevpally, Shastripuram.
# About 8.97 per cent voting reported till 9 am in Telangana 
# Deputy Chief Minister Kadiyan Srihari cast his vote in Warangal.
# BJP's G Kishan Reddy casts his vote at polling booth no.7 in Kachiguda
# Actor Allu Arjun stands in a queue to cast his vote at booth no. 152 in Jubilee Hills, Hyderabad. 
# Actor Akkineni Nagarjuna and his wife & actor Amala Akkineni stand in a queue to cast their votes at booth no. 151 in Jubilee Hills, Hyderabad
# State Irrigation Minister T Harish Rao casts his vote in polling booth no. 102 in Siddipet constituency
# Hyderabad: Voting is yet to begin at the polling station at GHMC Indoor Stadium, Amberpet due to a technical problem. 
# People queue outside a polling station in Jubilee Hills, Hyderabad to cast their votes. Voting is being held in 119 constituencies of the state today. 
# People cast their votes at a polling station in Pothangal in Nizamabad​.
As the Communist Party of India-Maoist has given a call for boycott of elections, the police heightened vigil in areas bordering Chhattisgarh and Maharashtra.
The TRS government Dissolved the Assembly about eight months ahead of schedule in the hope of taking the opposition parties by surprise but the Congress threw a surprise by coming up with an alliance in a bid to oust the ruling party. 
In Telangana, Congress has tied up with unlikely rival TDP, CPI and Telangana Jana Samithi (TJS), a new party floated by M. Kodandaram, who was once Chief Minister K. Chandrasekhar Rao's friend in the Telangana movement.
Chief Minister and TRS President K. Chandrashekhar Rao, his 14 cabinet colleagues including a son and a nephew and state presidents of the Congress and the BJP are among those contesting in the Telangana assembly elections today.
All India Majlis-e-Ittehadul Muslimeen (AIMIM) leader Akbaruddin Owaisi, state Congress working President A. Revanth Reddy and Telugu Desam Party (TDP) founder N.T. Rama Rao's granddaughter N. Suhasini are among the other key candidates whose political fortunes will be decided in the polling.
KCR, as the Telangana Rashtra Samithi (TRS) chief is popularly known, is seeking re-election from Gajwel constituency in Siddipet district. The 64-year-old, who never lost an Assembly or Lok Sabha elections since making his debut in 1985, is confident of yet another victory.
KCR's son K.T. Rama Rao, who is number two in both party and government, is aiming for a third term from Sircilla constituency.
KCR's nephew and cabinet minister T. Harish Rao appears set to retain Siddipet seat for the fourth term in a row. Considered a powerful leader in the ruling party, he also won two by-elections from the same seat.
Among the other ministers, Etela Rajender, who holds finance portfolio, is testing his fortunes once again from Huzurabad.
Congress party's Telangana unit chief N. Uttam Kumar Reddy, who may emerge as a strong contender for the Chief Minister's post in the event of Congress-led People's Front coming to power, is contesting for a third consecutive term.
Revanth Reddy is another key contestant. Revanth, whose midnight arrest on Tuesday triggered a storm, is contesting again from Kodangal, considered a politically sensitive constituency.
Another Working President of Congress Mallu Bhatti Vikramarka is the party candidate from Madhira (SC). Former Central Minister Sarve Satyanarayana is contesting on Congress ticket from Secunderabad Cantonment (SC).
Suhasini is trying her luck from Kukatpally, a constituency in Greater Hyderabad. Suhasini, whose father N. Harikrishna died in a road accident recently, is banking on voters who have their roots in Andhra Pradesh.
Bharatiya Janata Party (BJP)'s state President K. Laxman is contesting from Musheerabad in Hyderabad, while AIMIM's firebrand leader Akbaruddin Owaisi is seeking election from Chandrayangutta, also in Hyderabad, for a fifth consecutive term.
FULL VIDEO: