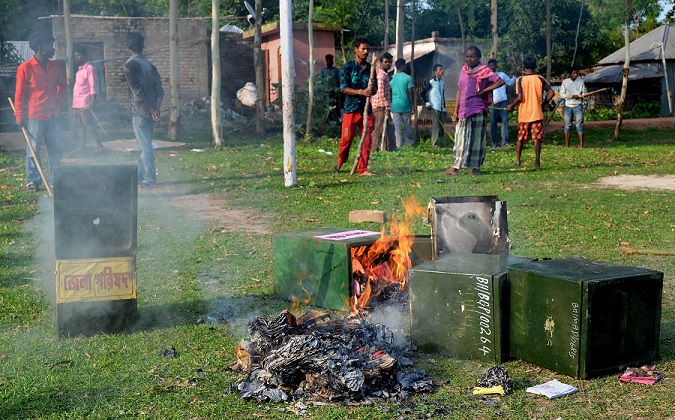 The panchayat polls in West Bengal witnessed a huge voter turnout of 73% despite widespread violence in the state, that left at least 12 people dead and over 40 injured.
Notwithstanding the elaborate security arrangements in which 60,000 security personnel from West Bengal and other states were deployed, violence broke out in North and South 24 Parganas, East Midnapore, Burdwan, Nadia, Murshidabad and South Dinajpur districts. 
Polling booths were mainly targeted during the violence after clashes broke out between Trinamool Congress supporters and opposition party workers. Crude bombs were also hurled near several polling stations. 
Despite the violence, State Election Commission (SEC) sources said 73 per cent polling was recorded till 5 pm, the closing hour, but many more voters were still in the queue. 
West Bengal Panchayat Polls: Where did violence take place?
A youth was beaten to death as he tried to enter a polling premises in Nadia district while a Trinamool Congress activist was shot dead in South 24 Parganas district's Kultali, police said.
The Communist Party of India-Marxist claimed one of their activists was killed in bomb attacks in North 24 Parganas district's Amdanga.
Three deaths were reported from Murshidabad while two were killed in East Midnapore's Nandigram. Two persons lost their lives in Nadia and North Dinajpur districts.
"Three youths were beaten up by locals in Nadia district's Shantipur area on Monday morning. Police rescued and got them admitted to a local hospital. One of them, Sanjit Pramanik, succumbed to his injuries," Nadia district Superintendent of Police Santosh Pandey told IANS.
"Trinamool Congress worker Arif Ali Gazi was shot in the chest while coming out of a polling booth. He died in a hospital," an officer from Kultali police station said.
Though CPI-M's North 24 Parganas leaders claimed their party activist died in Amdanga after he was attacked with crude bombs, there was no police confirmation.
"We have heard of the incident but it is not confirmed yet. We are going to the spot," an officer from Amdanga police station said.
Police sources said two people were shot in East Midnapore district's Nandigram, famous for its historic land movement against the erstwhile Left Front government. The CPI-M claimed the two dead were party activists.
At least seven persons sustained bullet injuries in Murshidabad's Naoda area, leading to the death of one of them. The remaining were admitted in the district hospital.
Earlier, polling to elect 38,616 representatives in the three tiers of Panchayati Raj institutions -- panchayats, panchayat samitis and zila parishads -- started at 7 a.m. 
As the day progressed, reports of clashes, booth capturing, vandalising of ballot boxes and rigging were received from pockets of South and North 24 Parganas, North Dinajpur, Nadia, West Midnapore and Cooch Behar districts.
In several places, gun-toting goons attacked policemen on duty at polling premises, leaving at least two police officers severely injured.
In South 24 Parganas' Bhangar, the 'Jomi, Jibika, Bastutantra O Poribesh Raksha Committee' (Committee for protecting land, livelihood, ecology and environment), which is spearheading an anti-power grid movement in the area, accused armed miscreants of the Trinamool Congress of kidnapping their Panchayat Samiti candidate Sariful Mullick and terrorising voters.
The committee alleged that their candidate Entazul Khan was severely injured in an attack by Trinamool Congress-backed miscreants and was taken to Kolkata's RG Kar Hospital.
In north Bengal's Cooch Behar, Minister Rabindranath Ghosh was accused of slapping a Bharatiya Janata Party polling agent and forcing him out of the polling premises, following which the SEC sought a report from the district administration.
The Minister, however, denied all allegations and accused the BJP agent of trying to run away with the ballot box.
Violence also took place in East Midnapore district's Panskura and West Midnapore district's Keshpur where gun-toting miscreants gathered outside the polling stations and beat up voters.
Several attempts to rig the election process were also reported across the state as miscreants poured water into ballot boxes or set them on fire.
Initially, voting for the rural bodies was to be held on May 1, 3 and 5 but as the nomination process started in April, it was rescheduled to May 14 by the SEC following a Calcutta High Court order to extend the nomination deadline and announce a fresh polling date.
Statistics reveal that of the total 58,692 seats in the three tiers of the rural local bodies, 20,076 seats, or 34.2 per cent, have been decided uncontested, with the Trinamool bagging a whopping proportion of these seats.
These include 16,814 of the total 48,650 gram panchayats seats, 3,059 of the 9,217 panchayat samiti seats and 203 of the 825 zila parishad seats.
The Supreme Court has now asked the SEC not to issue winning certificates in these seats.
West Bengal Panchayat Polls: Political slugfest continues
Opposition parties accused the ruling Trinamool Congress of unleashing a reign of terror and destroying democracy. 
"First they didn't allow people to file nominations. Second after filing nominations, TMC started threatening the candidates to withdraw. The people who didn't withdraw were attacked. This is nothing but a complete destruction of democratic process," CPI(M) general secretary Sitaram Yechury said. 
CPI leader D Raja said it was a farce of an election and the Mamata Banerjee government should have taken steps to save democracy in West Bengal. 
However, the TMC downplayed the violence, saying it was far less compared to the previous rule of the Left. 
 
"To all 'newborn' experts on Bengal Panchayat Elections in State have a history. 400 killed in poll violence in 1990s in CPIM rule. 2003: 40 dead. Every death is a tragedy. Now closer to normal than earlier times. Yes, few dozen incidents. Say, 40 out of 58,000 booths. What's %age? (sic)", TMC leader Derek O'Brien said on Twitter. 
West Bengal panchayat polls violence: Centre seeks report from TMC government
The Centre today sought a report from the West Bengal government on the violence during panchayat polls in which six people were killed and 43 injured.
A Home Ministry official said the state government has been told to provide a detailed report on the circumstances leading to the violence and the steps taken to restore peace and punish those involved in the violence. 
HC's notice drawn to panchayat poll violence 
Alleging widespread violence and deaths during the West Bengal panchayat polls today, a lawyer showed videos to the Chief Justice of the Calcutta High Court and prayed for summoning the State Election Commissioner (SEC) and the state home secretary to ensure a peaceful election. 
A division bench of Chief Justice J Bhattacharya and Justice Arijit Banerjee, before which the lawyer presented his mobile phone for the judges to view video clippings of the alleged violence, however, refused to summon the SEC or the home secretary. 
The lawyer claimed to have recorded the video clippings from television news channels. 
Refusing to entertain the verbal plea, the court told lawyer Suprodip Roy to file a petition if he wished to, incorporating the details of his claims. 
Roy claimed before the bench in the afternoon that there was violence during the polls since morning, leading to the death of six persons, and prayed that the SEC and the home secretary be summoned immediately to ensure a peaceful election in the last few hours of polling. 
He claimed that the violence was being perpetrated, despite the high court's directions to the SEC and the state government to take steps to ensure a peaceful election. 
The bench had, on Friday, said the SEC and state officials would be personally held liable and that they would have to pay compensation if the loss of life and property in today's panchayat polls was higher than that in the 2013 election.
West Bengal Panchayat Elections: FULL COVERAGE
(With PTI and IANS inputs)