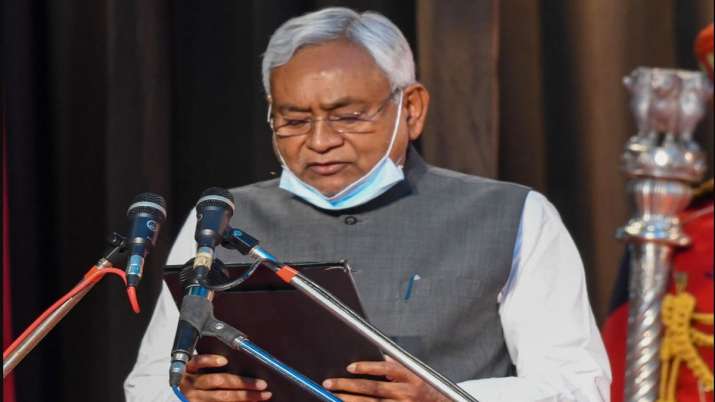 Janata Dal-United president Nitish Kumar took oath as Bihar chief minister for a fourth straight term on Monday, November 16, at a ceremony which was attended by top BJP leaders, including Union Home Minister Amit Shah and party president JP Nadda. Along with Nitish Kumar, BJP leaders Tarkishore Prasad and Renu Devi also took oaths. They are expected to serve as his deputies. 
Nitish Kumar was administered the oath of office at Raj Bhavan by Governor Phagu Chauhan, a day after he staked claim for the formation of a new government in the state, armed with unanimous support of all legislators of the NDA despite his partys plummeted tally.
Ashok Choudhary, and Mewa Lal Choudhary and BJP's Mangal Pandey and Amarendra Pratap Singh were sworn as ministers in Nitish Kumar's cabinet.
ALSO READ: FULL LIST of Nitish Kumar's new cabinet ministers
Santosh Kumar Suman, son of Hindustani Awam Morcha (HAM) chief Jitan Ram Manjhi and Mukesh Sahni of Vikassheel Insaan Party (VIP) also took oath as cabinet ministers of Bihar.
The main opposition Rashtriya Janata Dal (RJD) boycotted the swearing-in ceremony stating the mandate was against the National Democratic Alliance (NDA).
ALSO READ: 'Tired and politically belittled leader': Prashant Kishor rubs it in as Nitish Kumar takes oath
In a tweet, the RJD said: "The RJD boycotts swearing-in ceremony. The mandate for change is against the NDA. The mandate has been changed on the state's directions. Ask the unemployed, farmers, contract workers and employed teachers of Bihar what is going on with them. The public is agitated by the fraud of the NDA. We are the public's representatives and stand with them."
ALSO READ: Why Sushil Kumar Modi was denied Bihar deputy CM post? Nitish Kumar responds
The NDA won the state election last week with a thin majority and got 125 of Bihar's 243 assembly seats, three above the halfway mark. The results were declared on November 10 after counting of votes that went past midnight. 
The BJP is single largest party in the alliance with 74 seats while the JDU secured 43 seats. Other NDA constituents Vikassheel Insaan Party (VIP) and Hindustani Awam Morcha (HAM) won four seats each.
WATCH: The storyand journey of Nitish Kumar