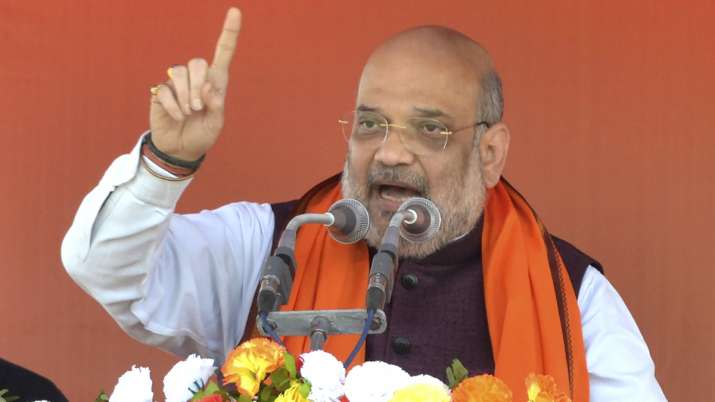 Bharatiya Janata Party (BJP) leader Amit Shah on Friday slammed West Bengal Chief Minister Mamata Banerjee over her remarks against central forces. Addressing the media in Kolkata, Shah said that the Trinamool Congress' frustration over impending defeat is evident from Mamata Banerjee's outbursts against central forces.
"When CAPF is deployed for poll duty, it doesn't come under the jurisdiction of the Home Ministry. It comes under Election Commission," he said.
"The frustration of TMC is very much evident from their action and speeches. I haven't seen such a leader or CM in my life who give statements to 'gherao CRPF'. Is she pushing the people towards anarchy? I don't understand," the Home Minister added.
Shah said that Mamata's appeal for minority unity during assembly polls shows that minority votes drifting away from Trinamool Congress. He added that oeople of Bengal peeved about Mamata Banerjee's failure to check infiltration, protest against CAA and appeasement politics.
Earlier on Thursday night, the Election Commission issued a notice to Banerjee for her statements against central armed police forces deputed on election duty. The notice said that Banerjee prima facie violated various sections of the Indian Penal Code with her remarks against the central forces. The chief minister has been asked to respond to the notice by 11 am on Saturday.
The EC said prima facie, the completely false, provocative and intemperate statements by Banerjee attempted to berate and vilify central paramilitary forces during the electoral process.
This is the second notice issued to Mamata Banerjee by Election Commission. The poll panel had on Wednesday issued a notice to Banerjee for violating the model code of conduct, after she allegedly urged the Muslim community to vote en block for the TMC at a public meeting in Tarakeshwar.
READ MORE: Explain 'central forces' remark: ECI issues second notice to Mamata Banerjee
READ MORE: Didi asking Muslims to vote for TMC shows minority votes slipping away: PM Modi