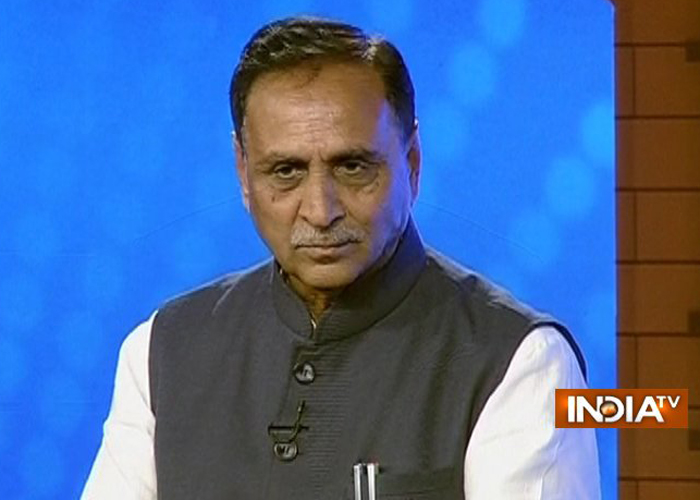 Gujarat Chief Minister Vijay Rupani on Tuesday said that the Bharatiya Janata Party (BJP) has set itself a target of a record 150-plus seats in the 182-seat Gujarat Assembly where elections are scheduled to take place on December 9 and December 14. "I'm confident that we will win by over 150 seats," Rupani said at India TV's mega conclave Chunav Manch in Ahmedabad.
Slamming Patidar Anamat Andolan Samiti (PAAS) leader Hardik Patel at the mega conclave, Rupani said that the "Patidar fight is no more for a community, it has become a private affair".
When asked if the Patidar community will vote for Narendra Modi-led BJP government in the upcoming Gujarat polls, Rupani said, "Patidars and the BJP are two sides of the same coin, they will vote for us."
Rupani, who took over in August last year, said that the Patidar community is well aware that Hardik Patel supports the Congress party. "Hardik Patel has duped the Patidar community and the Patidars have come to know about it now," he added.
"People are aware of the 'anti-Patidar' attitude of the Congress party and this has already been quoted by PM Narendra Modi", CM Rupani said.
ON CHAI WALA MEME
"Indecent cartoons are an insult to the prime minister of the country, it is also an insult to the poor people who work as 'chaiwaalas'. Congress will have to pay a price for it," the Gujarat chief minister said.
Few days back, a Youth Congress magazine had published a meme calling PM Narendra Modi a "chaiwaala" (tea vendor).
Full Coverage: India TV Chunav manch on Gujarat Elections