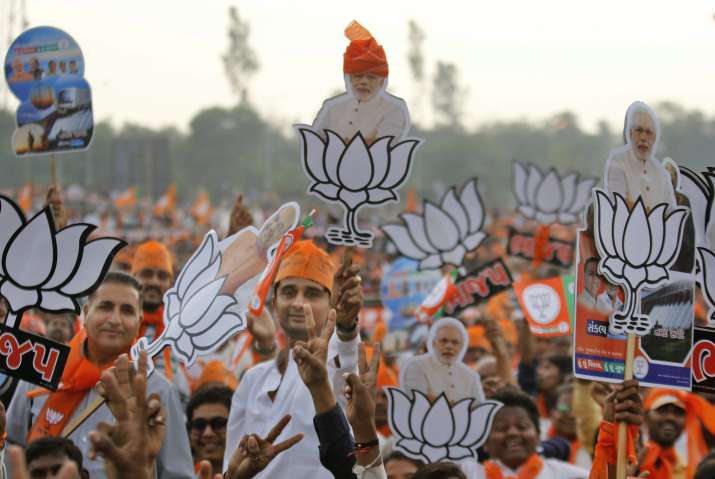 The curtains have come down on campaigning for the second phase of polling in Gujarat, where the canvassing saw charges flying thick and fast with the top brass of the BJP and the Congress launching no holds barred attacks against each other. FULL COVERAGE ON GUJARAT ELECTIONS
Top leaders from the two parties criss-crossed the regions going to polls on December 14 and addressed a number of rallies where they pulled out all stops to woo the voters.
PM Narendra Modi spearheaded the campaign for the ruling party and president of Congress Rahul Gandhi helmed the stumping for his outfit.
The second and final phase of elections, for which the open campaigning ended at 5 pm on Tuesday, will see 93 assembly seats spread across 14 districts in north and central Gujarat going to polls.
Also Read | Gujarat Polls: Congress claims PM Modi's sea-plane ride will cost BJP candidates
PM Modi will once again visit Gujarat on Thursday, the second final day of polling in the assembly election, to cast his vote. Many other senior state and national leaders will also be in Gujarat to cast their votes.
Modi, who returned to Delhi on Tuesday, after extensively campaigning for four consecutive days and having practically made Gujarat his home for more than a month, will come to Ahmedabad, where he will cast his vote at Nishan Vidyalaya in Ranip area on Thurdsday.
Bharatiya Janata Party (BJP) President Amit Shah too will be in the city to cast his vote from his former assembly constituency, Naranpura.
He had vacated the seat to contest for a Rajya Sabha seat from the state. Another Rajya Sabha member from BJP representing Gujarat - Union Finance Minister Arun Jaitley will be in city to cast his vote from Vejalpur region of Ahmedabad.
Senior BJP leader LK Advani too will be in Ahmedabad city to cast his vote from Khanpur area. The sitting MLA from Abdasa and Congress candidate from Mandvi, Shaktisinh Gohil will be casting his vote in Gandhinagar.
State Congress President Bharatsinh Solanki will exercise his voting right in Borsad town of Kheda district. Another Congress candidate Siddharth Patel will be casting his vote from Dabhoi.
A total of 851 candidates are in the fray for the second phase, where 2.22 crore people are eligible to vote.
The first phase of voting for the 182-member house, held on December 9, covered 89 seats.
Also Read | Will make 1+1 equal to 11 for people of Gujarat: PM Modi's emotional vote appeal as campaigning for second phase ends
The Gujarat contest is being seen as a prestige battle for Modi in his home state, where a reinvigorated Congress has sewed up a broad social coalition with prominent Patidar, OBC, and Dalit leaders in its bid to unseat the BJP in power for over two decades.
The influential Patidar community, which accounts for around 12 per cent of the state's population, could prove to be the 'X factor' in the polls in which agitating quota spearhead Hardik Patel pledged support to the Congress and appealed to people to "uproot the BJP" this time.
As the campaign was nearing its end, "Vikas" (development) took a back seat, and caste and religious issues received prominence.
Pakistan, too, found ample mention in the final stages of the electioneering.
Modi set off a political storm when, speaking at a rally in Palanpur, he talked about a meeting held at suspended Congress leader Mani Shankar Aiyar's home in Delhi and attended by some Pakistani dignitaries, a former Vice President of India and former prime minister Manmohan Singh.
This meeting, Modi claimed, happened a day before Aiyar called him "neech" (lowly sort of person).
During the campaign, Modi and BJP chief Amit Shah trained guns on the Congress on issues like Ram Temple, alleged Pakistani interference in the Gujarat polls and Aiyar's remarks.
On the other hand, Gandhi persistently and tenaciously attacked Modi and the BJP for "not talking about the future of Gujarat" and skipping key issues being faced by the people of the state.
He accused Modi of ignoring the masses and working for only a handful of industrialists.
The last day of campaigning saw both Modi and Gandhi visiting temples. While Gandhi paid a visit to the famous Lord Jagannath Temple in Ahmedabad, Modi took blessings at the famous Ambaji Temple in Banaskantha.
Hardik Patel charged up the campaign by holding a massive rally in Nikol area of the city, where he appealed to voters to "teach a lesson" to the BJP this time.
The 24-year-old, arguably the most talked about personality in Gujarat today, even held a road show here defying authorities who had denied permission for the event.
Several senior leaders from both the BJP and the Congress also campaigned extensively for their candidates in major parts of north and central Gujarat.
In the 2012 assembly polls, the BJP had won 115 seats, while the Congress bagged 61.