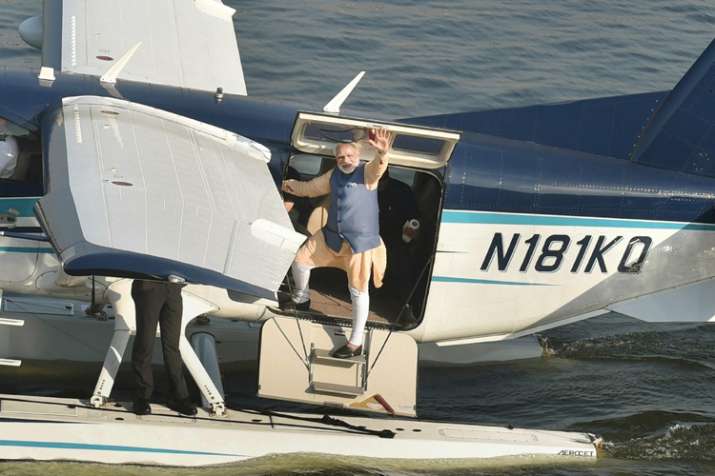 On the last day of campaigning for the second phase of the Gujarat Assembly elections, Prime Minister Narendra Modi made an emotional appeal to the people, promising to take the poll-bound state to new heights.
"With the Government of India and Government of Gujarat working together, the strength rises manifold. This 1+ 1 is not 2 but 11 and together we will take Gujarat to new heights," PM Modi said.
He said that it had been three and a half years since he "got the honour to travel across the length and breadth of Gujarat to seek the blessings of the people". 
"During my travels across Gujarat, the level of affection I have received from the people is unparalleled in my 40 years of public life. This affection gives me strength and motivates me to devote all my time for India's development," he said. 
"I call upon the people of Gujarat to not only give the BJP an overwhelming majority but also ensure that BJP wins in every polling booth across the state," he added. 
Attacking the Congress, PM Modi said that it has been spreading lies about Gujarat, Gujarat's growth and about him, adding that that the state would respond to the "negativity and lies" in a fitting manner. 
PM Modi flew in a seaplane from the Sabarmati River to Dharoi Dam in Mehsana district and then travelled by road to Banaskantha district to offer prayers at the famous Ambaji Temple. 
Asked the reason for the Prime Minister taking a seaplane, Jagdish Bhavsar, an official of the Bharatiya Janata Party (BJP), said, "You can take this gesture of the Prime Minister as our other programmes like the Ro-Ro Ferry Service, or the Bullet Train project or the Bus Rapid Transit System (BRTS). You can take this new programme as one of the initiatives of the BJP."
The BJP has been in power in the state since more than 22 years with the major share of that under the tenure of Modi as Chief Minister. But after having ruled for more than two decades, the saffron party is feeling a strong wave of opposition in the form of various agitations from different sections of the society.