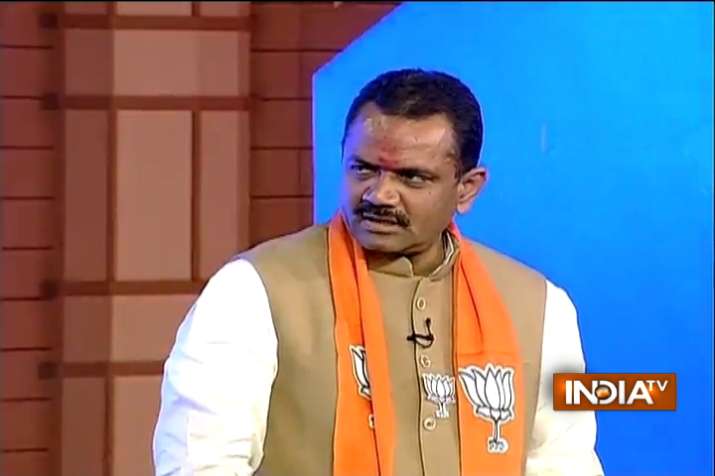 Gujarat BJP president Jitu Vaghani on Tuesday slammed the Congress for insulting Prime Minister Narendra Modi through indecent cartoons and calling him 'chai wala'.
"Congress will have to pay a price for the indecent cartoons against PM Modi, it was very wrong of them to target PM Modi by referring him as 'Chai Waala'," said Jitu Vaghani in India TV's mega-election conclave "Chunav manch" in Ahmedabad. 
He further accused the Congress of deliberately delaying the Sarovar dam project on Narmada river for seven years, adding that the BJP completed the project which benefitted al sections of the society. 
When questioned over BJP not giving tickets to Muslim candidates in Gujarat, Jitu Vaghani called it a 'strategy of Congress' to degrade BJP by saying that the saffron party is biased towards a particular religion. 
He further claimed that the BJP is fielding Muslim candidates too in the upcoming elections.
The state BJP president took a jibe over Congress vice president Rahul Gandhi's recent temple visits in Gujarat, saying that the latter doesn't even know how to offer prayers at temples, and he should first learn that. 
"Rahul Gandhi does not even know how to worship God in temples and do aartis, the senior Congress leaders should teach him this first," he said. 
The Gujarat BJP President further said that the Congress party will continue to see a downfall wherever Rahul Gandhi will go for campaigning. 
Also Read: Hardik Patel on Chunav Manch: 'Constitution does not set 50% ceiling for reservations, even Lord Krishna advised against power monopoly'
"Goons used to be more powerful before the BJP had come to power, but we have taken a control on all such activities in our rule," said Vaghani. 
"As chief minister, Narendra Modi did a lot of work for people of Gujarat. Congress should see and realize that the BJP has completed the Narmada task and this has benefited all sections of the society," he added. 
Vaghani also said that the BJP believes in 'nation first' and works on the same agenda, adding that the saffron party will continue to fight for the country.
Expressing confidence on BJP's victory in the upcoming Assembly polls, Vaghani said that people of Gujarat are aware of the truth and they will make BJP victorious.