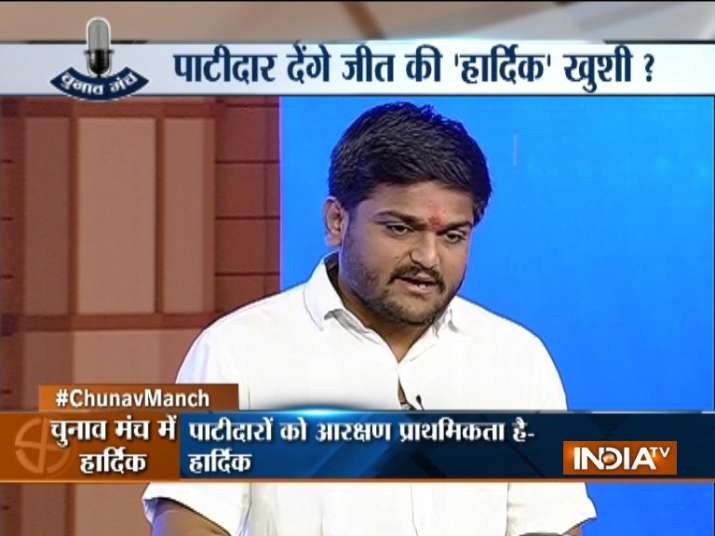 Patidar Anamat Andolan Samiti (PAAS) leader Hardik Patel today said that the constitution of India does not set any limit for 50 per cent reservation in employment.
Appearing in India TV's mega-election conclave "Chunav manch" in Ahmedabad, Hardik Patel pointed out that the ceiling has been set by the Supreme Court "which keeps amending its decisions."
Replying to a question on why he extended support to the Congress in the upcoming Assembly elections, Hardik Patel said that his only priority is to ensure reservations for his community.
He accused the BJP of not doing anything for reservation to Patidar community and alleged that the saffron party committed atrocities against the Patidars.
"BJP committed atrocities on Patidar community. I am fighting for its ouster from power," Hardik said.
He also reminded that even Lord Krishna said that there should be no monopoly over power and it should keep changing hands.
The PAAS leader asked the ruling BJP to explain how many new schools, colleges and hospitals were made during 27 years of its rule.
Hardik asked a counter question as to why nobody wants to know why is he seeking reservation for the Patidar community.
" Our farmers are not getting right price for what they are producing in the fields. Our youth is not getting right education. Even after competing their studies, they are not getting employment. That's why are seeking reservation," Patel added.
He made it clear that he did not seek ticket from any political party and asserted that he will disclose at the right time which party he would join.
Coming down heavily on former Gujarat Chief Minister Anandiben Patel, Hardik Patel said that she did not have the frace to meet the agitating Patidar youth. Instead, she ordered firing on them ,he said.