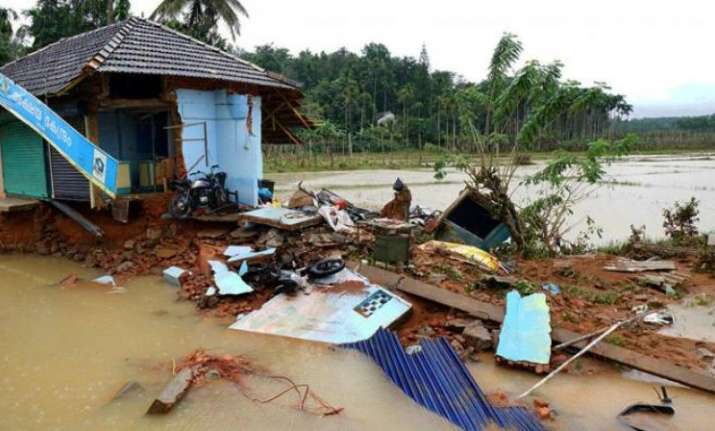 With no signs of relenting monsoon, Kerala continues to fight the heavy downpour and floodwater, which has caused massive destruction to lives and property. Taking the death toll to 167, it is the worst flooding in 90 years. The destruction has made people fear the recurrence of what is known as "The Great Flood of 99". The Meteorological Department has warned heavy downpour in 13 out of 14 districts except for Kasargod. The rescue operation is in full swing with the military on its toes to help the flood-hit people. Indian Air Force has established High Availability Disaster Recovery at Thiruvananthapuram and is working in collaboration with the state government to plan and implement rescue operations. Local fishermen have also joined the rescue mission to evacuate stranded people.
People from all around the state are uploading SOS videos requesting for relief materials and rescue operation. Kerala State Electricity Board (KSEB) has cut the supply in 80 percent on the state. Amidst all these, ecologists are unhappy as the government refused to implement the Gadgil Committee's recommendations in 2011. Environmentalists claim it to be a man-made disaster as the government rejected its recommendation of putting strong restrictions on mining, quarrying, illegal forest land acquisition and construction of high-rise buildings. All rivers in the state are in spate and shutters of 35 dams have been opened.
In such a crisis, here are tweets on Kerala floods 2018 which you need to see right now.
My dear #NationalMedia this is #KochiAirport as of now! Do you all have any idea the extend of #KeralaFloods still it's not a #NationalCalamity! My #Keralites we have to deal with this on our own! Jai Hind! pic.twitter.com/i59XAbufsr

— resul pookutty (@resulp) August 16, 2018
Our thoughts are with those in Kerala. Help track missing people with #personfinder: https://t.co/8EECLFpCqv #KeralaFloods pic.twitter.com/mo9VM3Uph4

— Google India (@GoogleIndia) August 16, 2018
A verified collection center for #KeralaFloods in #Chennai Please call and confirm what you can bring and what is needed. pic.twitter.com/9LJ4YgVKUw

— Siddharth (@Actor_Siddharth) August 17, 2018
Please share widely...#KeralaFloods pic.twitter.com/tLrq8PZvUj

— Rema Rajeshwari IPS (@rama_rajeswari) August 16, 2018
Dear Chennai Area Thala Fans a Truck is coming from chennai on Monday with Relief matetials for #KeralaFloods victims.
You guyz can contribute any essential material if you are interested.

please contact - +91 90038 67909, +91 86959 73040, +919600067064#ShareMax pic.twitter.com/fdR0LCt9vt

— Ajith Fans Kerala™ (@AfcKerala) August 16, 2018
Alert: All districts apart from Kasargod are under red alert. The Meteorological Department warns that heavy rains may affect these 13 districts. Everyone please be cautious. #KeralaFloods

— CMO Kerala (@CMOKerala) August 17, 2018
Urging and requesting the #nationalmedia to focus and draw attention to #keralafloods !! Each day is looking more grim for millions 😞😞 pic.twitter.com/hu1w2YCV1X

— dulquer salmaan (@dulQuer) August 17, 2018
Gods own country, Kerala is in the midst of it's most scary flooding ever.Immense humanitarian work by many locals and volunteers is being done. My heart goes gloomy seeing this bad situation. Do your bit to help them. Here's all the details.. #KeralaFloods pic.twitter.com/t1VDNL3s7p

— Juhi Chawla (@iam_juhi) August 17, 2018
amazon has made it really easy and simple to donate to NGOs including goonj working on #KeralaFloods #keralafloodrelief please do your bit whatever you can https://t.co/B437Wx6s7q pic.twitter.com/rd531FlgUj

— Surekha Pillai (@surekhapillai) August 17, 2018
amazon has made it really easy and simple to donate to NGOs including goonj working on #KeralaFloods #keralafloodrelief please do your bit whatever you can https://t.co/B437Wx6s7q pic.twitter.com/rd531FlgUj

— Surekha Pillai (@surekhapillai) August 17, 2018
#KeralaFloods Emergency Phone numbers for District Administration pic.twitter.com/qZIMQHR5m9

— Ramesh Bala (@rameshlaus) August 17, 2018
I pray for the people affected by #KeralaFloods . Rescue Camp Locations for Reference. Please pass this information to the needy.. pic.twitter.com/4oR7peQ1BW

— VVS Laxman (@VVSLaxman281) August 17, 2018
Swimmers please help ‼️
Rescue team needs more swimmers to join their team. Experienced swimmers please take initiative. Those who are willing to join please contact directly to 9167765239 (voice calls only) . Please spread this message asap

Via @AjuVarghesee #KeralaFloods

— noufin (@_noufin) August 17, 2018
For all latest news and updates, stay tuned to our Facebook page