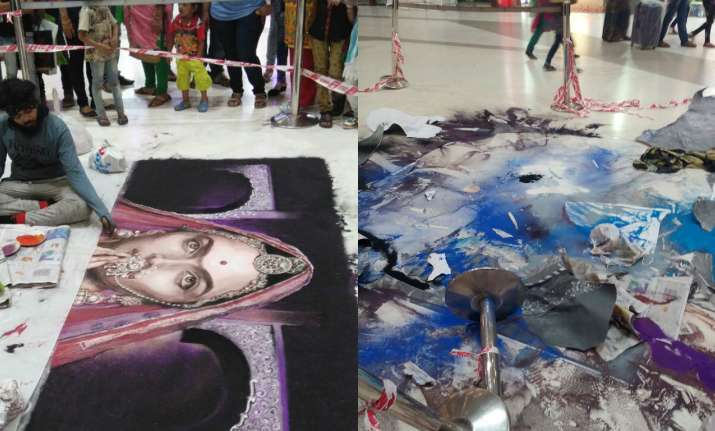 Sanajy Leela Bhansali's magnum opus Padmavati has been mired in controversies even before its release. Things turned turbulent on many occasions for Deepika Padukone, Ranveer Singh and Shahid Kapoor starrer movie. Earlier, Rajasthan's Karni Sena vandalised the sets and thrashed Bhansali, also the sets were set ablazed in Kolhapur. Now, in a recent horrific incident, an artist's 48 hours of creation was ruined in less than a minute.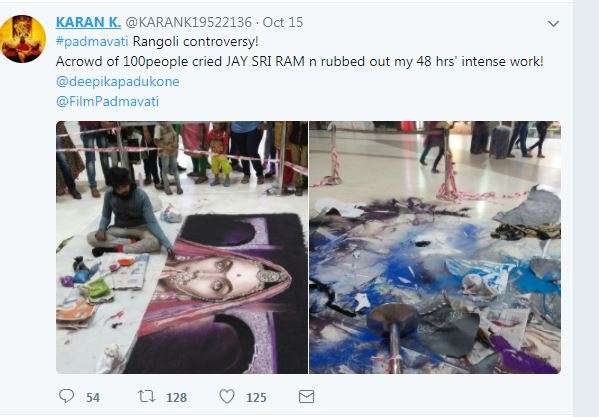 Karan K, an artist created a magnificent rangoli in Gujarat's Surat after being inspired from Padmavati's trailer. He beautifully crafted Deepika Padukone's Padmavati look with colourful sands. However, this irked goons who destroyed the hard work in the blink of an eye. Outraged artist, shared the picture on his Twitter account with the caption : "#padmavati Rangoli controversy! A crowd of 100 people cried JAY SRI RAM n rubbed out my 48 hrs' intense work! @deepikapadukone@FilmPadmavati."
The trailer of Padmavati has already impressed millions of fans. Mostly, looks of the leading actors and stunning background score have created a lot of buzz. Padmavati is slated to release on December 1.