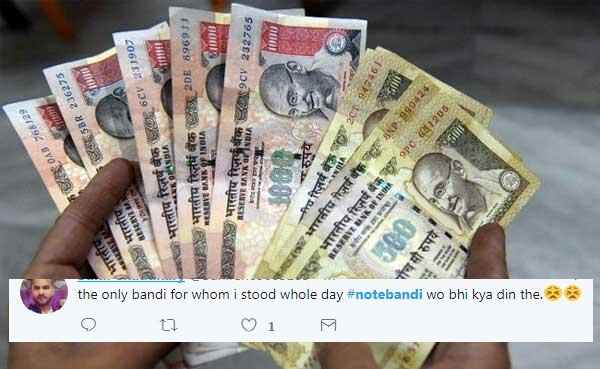 November 8 isn't going to be just another day for millions of Indians since last year. It was the day when Modi government scrapped the old currency of Rs 500 and Rs 1000. The move was rather a roller coaster ride for many, with several ups and lows. Few weeks later, new notes of Rs 500 and Rs 2000 were introduced. The government urged people to move towards cashless economy. But the phase around demonetisation will be remembered every year this time.
On first demonetisation anniversary, plethora of debates about its pros and cons are there on social media. While politicians stand divided on the matter, the common man is busy making memes. Twitterati knows it well how to take a jibe on the most serious matters and vital events of the history. So 'Note Bandi' was no excpetion.
This day will be known as the death anniversary of our dear old Rs 500 and Rs 1000 notes.
Farah Khan's husband Shirish Kunder took no time to relate Twitter's introduction of 280 characters with demonetisation.
Exactly one year later, Twitter gives us #280characters. Demonetisation is a success 🙏 #DemonetisationAnniversary

— Shirish Kunder (@ShirishKunder) November 8, 2017
Rest in peace, Rs 500 and Rs 1000.
#DemonetisationAnniversary
Miss you 😭😭😭😭
Jaha Bhi ho Khush Raho😞😞😞😞😜 pic.twitter.com/z4zJmemu8z

— 💫AmritA💫 #BB12👁 (@_AmritaSpeaks) November 8, 2017
This is the message I woke up with this morning. #DemonetisationAnniversary #BlackMoney #BlackDay #MorningRush pic.twitter.com/diPmpjO5tD

— The Feku Express (@the_feku) November 8, 2017
1st anniversary! R.I.P. #old500#DemonetisationAnniversary pic.twitter.com/QoEDQF9Vj4

— Gyanita Sinha (@Gyanita14) November 8, 2017
T084 #soakthinks
Happy Birthday ₹2000#Demonitisation #1YearOfDeMo #DeMoWins #DemonetisationAnniversary #AntiBlackMoneyDay #doodle pic.twitter.com/DHcb0ibnRc

— SOAKThinks (@SoakThinks) November 8, 2017
the only bandi for whom i stood whole day #notebandi wo bhi kya din the.😣😣

— Sunil Chaudhary (@SunilCh69003165) November 8, 2017
Remember the famous 'Sonam Gupta Bewafa Hai' memes? 
Sonam Gupta is World famous Bewafa😂😂 pic.twitter.com/305OLuVk10

— The Engineer (@Engihumor) November 14, 2016
BREAKING: Govt Is Planning To Issue New Rs 2000 Notes For Heartbroken Lovers With "Sonam Gupta Bewafa Hai" Written On It In 9 Languages.

— Sir Ravindra Jadeja (@SirJadeja) November 14, 2016