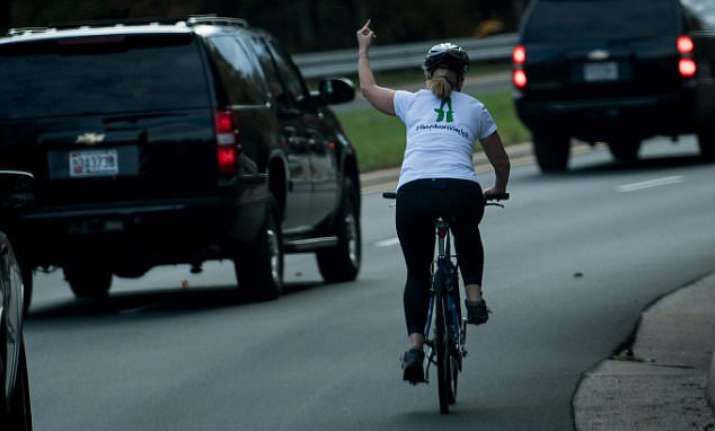 Recently, a photograph of a woman showing middle finger to US President Donald Trump's motorcade while cycling got viral. The picture which was clicked by a White House photographer created a lot of buzz on social media with the hashtag #2020. But the incident turned to be an unfortunate one for Juli Briskman, the one in photograph as she has been sacked by her employer.
It all happened when president was returning from his golf course in Sterling, Virginia and Juli happened to be travelling along with him. The picture gave birth to many jokes and memes with many liberals celebrating the incident. However, this didn't go well with the woman's company who are a government contractor. Akima LLC were upset with the behaviour of their employee and fired her over the same.
Briskman said that she was unaware of being captured at that moment. As soon as she find it circulating on social media, she informed her HR but that was of no use. In an interview to HuffPost, she said that her bosses called her to inform that she has violated the company's social media norms by putting the snap as her display picture of Facebook and Twitter. The employer said that she cannot have lewd or obscene things on her social media accounts. 
The arguments which Briskman put forward in her defence went in vain. She emphasised that she was not on duty when it happened and her social media accounts do not mention about her employer. Briskman was informed that as her company was a government contractor, the incident can cause embarrassment and have adverse effect on their business.