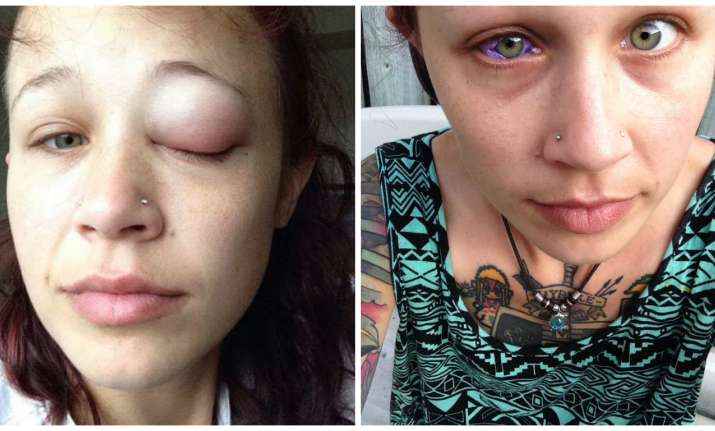 Body modification is on a rise with tattooing and piercing gaining popularity among youths. While tattoo and piercing look amazingly beautiful, they can cause irreversible damage if done on wrong parts of the body. Moreover, adequate research before undegoing the procedure is necessary. Recently, eyeball tattoo has become craze despite many risks involved.
A Canadian model Catt Gallinger has been left partially blind after injecting purple ink into the white (sclera) of her right eye. After facing the hazardous consequence of the practice, the 24-year-old model is creating awareness on social media and urging people to refrain from such tattooing. "I am NOT sharing this with you to cause trouble, I am sharing this to warn you to research who you get your procedures by as well as how the procedure should be properly done," she said in her Facebook post. "Just please be cautious who you get your mods from and do your research. I don't want this to happen to anyone else." she further added.
Gallinger said that she has been to hospital several times and she is at the risk of getting blind. She was on antibiotic drops and steroid drops since the tattooing. She revealed that her eye got swollen up immediately a day after. ''The procedure was done by someone who told me that they were experienced. It is my fault that I believed him. It is my fault that I gave in when they repetitively asked me to do my eye,'' she said in a Facebook video.
Gallinger is fond of tattoo and was interested in getting sclera inked. However, inadequate research landed her in a big trouble. There are plethora of material of internet slamming such extreme practice of body modification.