Follow us on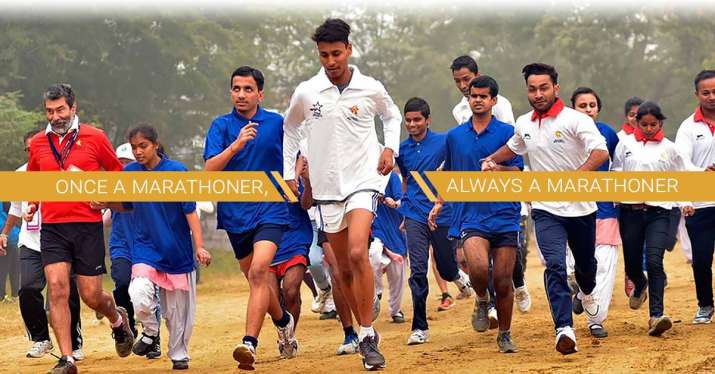 The 22nd edition of the cross country run in the city brought in over 55,000 children from across India at the picturesque Army Equestrian Centre at New Delhi's Brar Square. Students from over 1200 schools across the country participated in the marathon in Under 14 Girls /Boys (4.5 kms), Under 16 Girls/ Boys (6 kms) and Under 18 Girls/ Boys (8 kms) category races.  This year's run witnessed increased participation by students from Himachal Pradesh, Uttar Pradesh, Rajasthan and Madhya Pradesh in addition to schools in Delhi NCR.
Over 3300 visually challenged & differently abled children, with the help of volunteers, showcased indomitable spirit as they ran across 4.5 kms  in the first race of the day. The races were flagged off by Lt. Gen. Ashok Ambre, PVSM,** SM (Quarter Master General, Indian Army), Maj. General Rajesh Sahai, AVSM, SM (Chief of Staff Head Quarter, Delhi Area) and Mr. Harpal Singh (Chairman-Emeritus, Fortis ) who lauded the efforts made by the organisers to promote clean sports through a fair play system in place. Chip technology & age verification tests being conducted down the years ensured the message went down well amongst the kids. The children had a special cheering squad comprising of Jai and Viru from Sony YAY! encouraging students as they ran amidst  nature in a sprawling forest right in the middle of the national capital.
 
"The enthusiasm, courage & excitement we witness year on year for the run reassures us in our objective to encourage competitive sports in the city of Delhi and promote fair play and respect amongst each other. Some of the winners at Salwan Marathon today are representing their institution, regions & the country at global competitions and it's immensely gratifying to see these students go that extra mile when given a chance to run and build a good pace for an improved timing. We are doing our bit at the grass roots level and now it's upto their institutions and the Sports federations to build up their base for a sporting nation", says Samrata Diwan, spokesperson, Salwan marathon.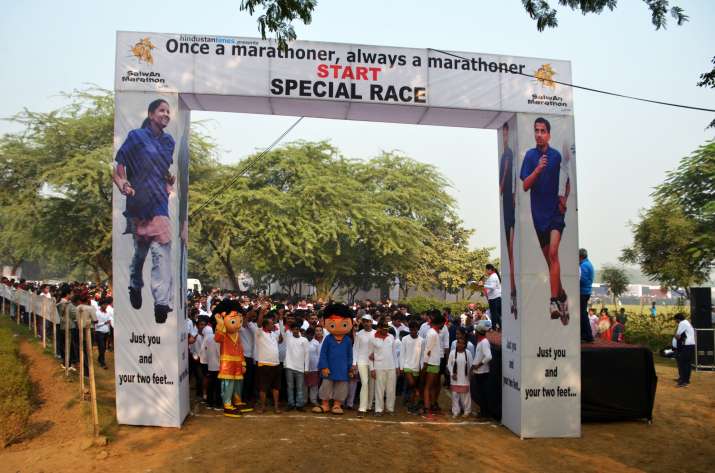 This year's edition saw a more challenging route with children running through long winding trails, across rivulets in a never experienced before surrondings in Delhi. The winners, who were students from rural backgrounds, piped their urban counterparts yet again and were put through stringent checks against Doping and Age Fudging.
 
"The most inspiring part of the marathon is the growing participation in the visually challenged and differently abled category runs. We also got an overwhelming response for volunteers to run with these students. Volunteers from all walks of life including the Indian army.  Not only is this an opportunity for some of these children to realise their potential, it is also a platform for them to be a part of the mainstream with 55,000 other students. The spirit of these children in unison with the volunteers who help these special needs children completing the race by acting as guide runners, is a victory in itself for humanity," feels Samrata Diwan.
 
More than 6000 volunteers from the Athletic Federation of India, Delhi State Amateur Athletics Association and Physical instructors across India ensured the safety and security of each participant  at the event.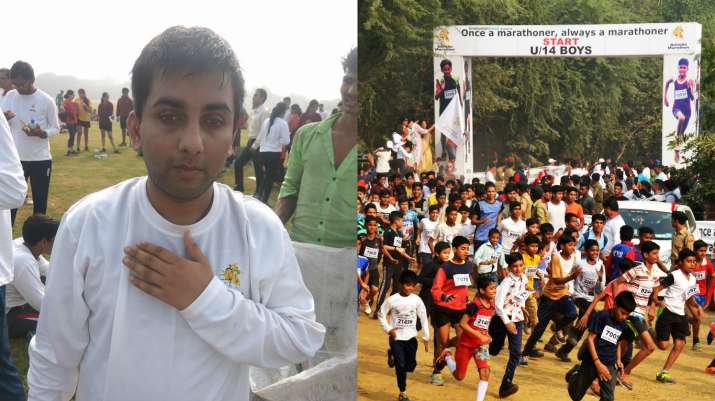 "As organisers, the safety and security of each and every child is of utmost importance and we would like to thank the Armed forces, the Marshalls, all the Volunteers and especially the Delhi police for all their support to make this a success, " added Samrata.
 
It was an event which celebrated the child and their spirit to excel. In addition to run, there was March past, Piped band, Bhangra, Magic show- all conducted by students to ekeep the mood high at the run. There was a special souvenir counter where students of Salwan public school, Mayur Vihar had made momentos/souvenirs for the marathon- the proceeds of the sale of the souvenirs to be used for the visually impaired students. 
While Aftaab won in the category of under 14 boys, Nancy from Govt Girls Sr. Secondary School bagged the first position in under 14 girls. Nitesh from Govt Boys Sr. Sec School, Premnagar was declared winner in under 16 boys category and Monika Tomar from Govt Girls Sr Sec School, Ambika Vihar won in under 16 girls category.