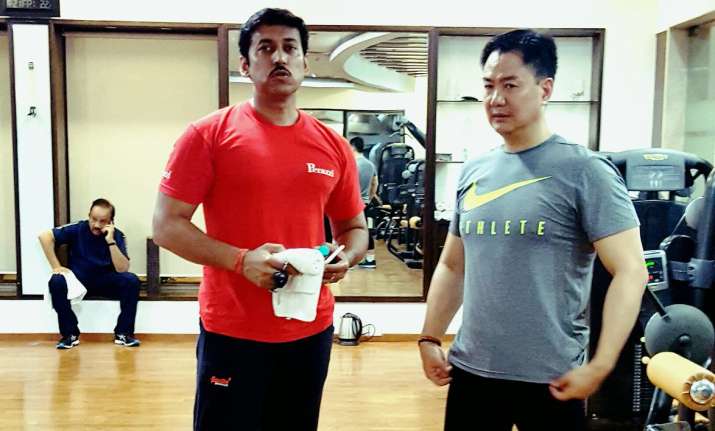 Guess who is giving us fitness goals and inspiring us to lead a happy and healthy life? Two ministers from the Narendra Modi government. Wait, what? Yeah, a rare sight in Indian polity where we associate ministers and party leaders to be paunchy, flabby and fat, Minister of State for Home Affairs Kiren Rijiu and Minister of State for Information and Broadcasting Rajyavardhan Singh Rathore are into intense workout regime.
On Wednesday, Kiren Rijiju posted a 37-second long clip of his colleague Rajyavardhan Singh Rathore working out in a gym. In the video, the former Olympic silver medallist is seen doing push-ups on an exercise ball. Soon after, Twitter was abuzz with tweets tagged with #FitnessGoals. Vijay Goel tweeted on the video calling him: "Our very own Rocky Balboa."
He captioned the video: "While doing duty we've no time for physical fitness. But my Olympian colleague...gives me a tough challenge." 
While doing duty we've no time for physical fitness. But my Olympian colleague @Ra_THORe manages some time & gives me a tough challenge👍 pic.twitter.com/ZKDAa2B96F

— Kiren Rijiju (@KirenRijiju) April 19, 2017
Ha ha ha...despite your hectic schedule, YOU are beyond competition AND are an inspiration. @KirenRijiju #IAmNewIndia 🇮🇳 https://t.co/iJ0gGHFEu1

— Rajyavardhan Rathore (@Ra_THORe) April 19, 2017
Getting intimidated by the huge commitment of @Ra_THORe & @KirenRijiju for fitness&rigorous regime they follow.Wish 1 could do bit like them https://t.co/pWdHg7JyaQ

— Suresh Prabhu (@sureshpprabhu) April 19, 2017
Sir @sureshpprabhu ji, we are happy and proud that YOU are keeping @RailMinIndia fit which is tougher anyday :) #IAmNewIndia https://t.co/DDDVLKqnzF

— Rajyavardhan Rathore (@Ra_THORe) April 19, 2017
And people couldn't agree more
India should spend more on open gyms & playgrounds. In Delhi open parks used only for marriage tents

— sanj kaps (@sanjkaps) April 19, 2017
To all ppl saying Canadian ministers r fit n healthy... Take sometime and look at our ministers as well...

— Sharath Kamath (@SharathKamathK) April 19, 2017
Woow, Inspiration 😍😍

— Mëëřå 🇮🇳 (@imeerage) April 19, 2017