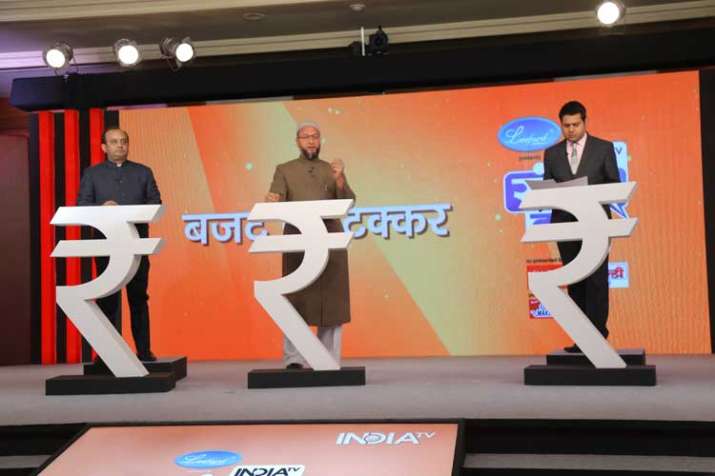 BJP leader Sudhanshu Trivedi on Friday said the developmental schemes embedded in Union Budget 2018-19 do not discriminate on the basis of caste or religion. 
Answering questions raised by Asaduddin Owaisi during the India TV Budget Samvaad, the BJP leader said that Finance Minister Arun Jaitley need not use the word 'Muslim' in his budget speech as all the schemes announced by him will be beneficial for both Hindus and Muslims, minority and majority. 
"It is not that the health benefits will not be availed by the poor and vice-versa," he said. 
President of the All India Majlis-e-Ittehadul Muslimeen (AIMIM), Asaduddin Owaisi, had claimed that Muslims and other minorities were ignored in the Union Budget 2018. 
Speaking at India TV Budget Samvaad, Owaisi said hatred towards Muslim increased during the three years of BJP rule. "The kabristan, Pakistan language used by the prime minister is adding to negative rhetoric towards Muslims in the country. It is important to end hatred towards the community," he said. 
"BJP talks about helping minorities, but has no explanation on how they will do it?" asked Owaisi. You have ended Haj subsidy, but when it comes to making scholarship schemes demand-oriented then you pay no heed," Owaisi said. 
In reply, Trivedi quipped: "People are always raising questions about the work done by the Centre. First, they question why is something not being done, when we do it they ask how have you done it?"
The BJP leader further rejected the claims that budge promises were made with 2019 Lok Sabha polls in mind. "We do not do anything with the fear of losing elections, if we did then we would not have brought demonetisation just before Uttar Pradesh elections. So I would request not to compare our plans with elections," he said. 
The ruling party representative further said that the Modi government took care of the middle-class in the budget by investing in health, education, transparency, and law and order - issues that middle-class cares about.