Follow us on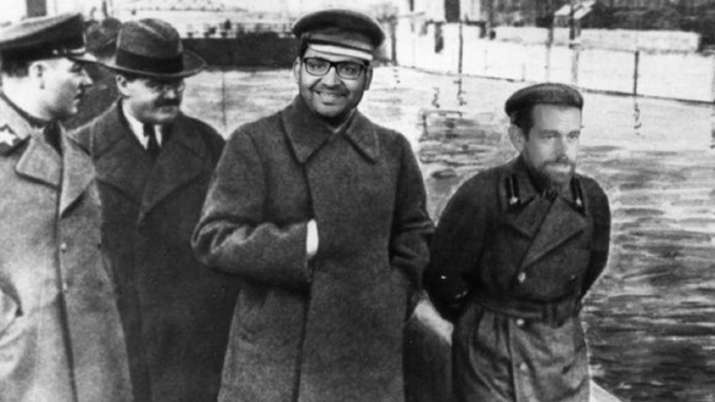 Elon Musk's Twitter presence is one of the most enjoyable things for netizens. A days after mocking the 'silly Apple cloth,' the Tesla and SpaceX founder took to the micro-blogging site to mock ex-Twitter CEO Jack Dorsey's resignarion and compared the current CEO Parag Agrawal with Joseph Stalin. He shared a Soviet-era meme that attracted many eyeballs.
The meme shared by Elon Musk showed an old picture of hardline former Soviet Union premiere and one of the most brutal heads of state, Joseph Stalin. While one part of the picture showed the face of Parag Agrawal, the recently appointed Twitter CEO, photoshopped on that of Stalin's with Jack Dorsey on his side. The other half showed Dorsey missing from the picture adn a splash of water in the river. He insinuated that Dorsey has been pushed in the river.
The original picture had featured former Soviet Union dictator, Joseph Stalin and his top execution executive, Nikolai Yezhov.
Reacting to the memes, a Twitter user said, "Damnnnnn very dark humour here" Anpther said, "Notice Stalin "Hidden hand" pose." A netizens even explained the meme that Musk shared.
Earlier when Parag Agrawal was announced the new Twitter CEO, Elon Musk had said that the US benefits from Indian talent. He reverted to a tweet by Stripe CEO Patrick Collison that read, "Google, Microsoft, Adobe, IBM, Palo Alto Networks and now Twitter run by CEOs who grew up in India. Wonderful to watch the amazing success of Indians in the technology world and a good reminder of the opportunity America offers to immigrants. (Congrats, Parag Agrawal)."
Meanwhile, Parag Agrawal has been with Twitter for more than a decade and has served as Chief Technology Officer since 2017.
"I've decided to leave Twitter because I believe the company is ready to move on from its founders. My trust in Parag as Twitter's CEO is deep. His work over the past 10 years has been transformational. I'm deeply grateful for his skill, heart, and soul. It's his time to lead," said Dorsey.
Agrawal said: "I look forward to building on everything we have accomplished under Jack's leadership and I am incredibly energised by the opportunities ahead. By continuing to improve our execution, we will deliver tremendous value for our customers and shareholders as we reshape the future of public conversation."