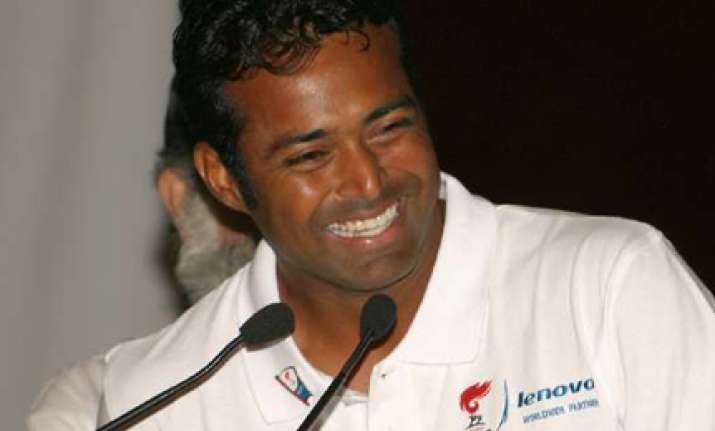 If India has not produced many tennis stars, it is because the players have been perennially lacking in physical fitness and they desperately need a sports science centre for training, says multiple-Grand Slam winner Leander Paes.
When it comes to tennis heroes in India, the counting does not go beyond three or four and picture is piteous on women's side.
Dwelling on the reasons for the bleak scenario, Paes said the problem lies in off-court training.
"The primary factor is the lack of understanding about the need for an intensive training regime away from the court. Our juniors have great tennis skills but fall short on the physical aspect," Paes told PTI in an interview.
"The lack of a sports science center in the country hinders not only tennis but every other sport too. That is one of the primary needs of Indian sports.
"We need to get that sports science center which will allow our athletes to train scientifically. Then, the whole culture of fitness for professional sport has to come in.
"We need world-class trainers and physios. Tennis skills our coaches can impart   especially at the beginner level but that emphasis on sweating off-court has to be made."
The trio of Paes, Mahesh Bhupathi and Sania Mirza has been the face of Indian tennis internationally for quite some time.
 Of late India have found the mettlesome Somdev Devvarman, who with his indomitable spirit, revived the interest in the game.  Then there is fast growing Yuki Bhambri, whose age and demeanour belies the sheer grit and passion with which he takes the court.
And Leander acknowledges their training regimen.
"Somdev already knows the value of quality fitness. He trains with Andy Roddick and has good support through his managers at Mamba. He does not need my advise, he's smart enough to know what professional tennis demands.
"Also, he has a good work ethic and the willingness to go through the pain of persistent gym work.
"Yuki is still growing as a player. He regularly visits the Nick Bollettieri academy in Florida and has access to their trainers," he said.
Leander said there is no dearth of tournaments in India for exposure and urged the players to understand the need for out of court training.
"There has been major improvement in exposure as now India holds a great number of Futures. It is up to aspiring players to understand that hitting balls alone will not make them into performers on the Tour. They have to hit the gym and that do under expert supervision," he said. PTI