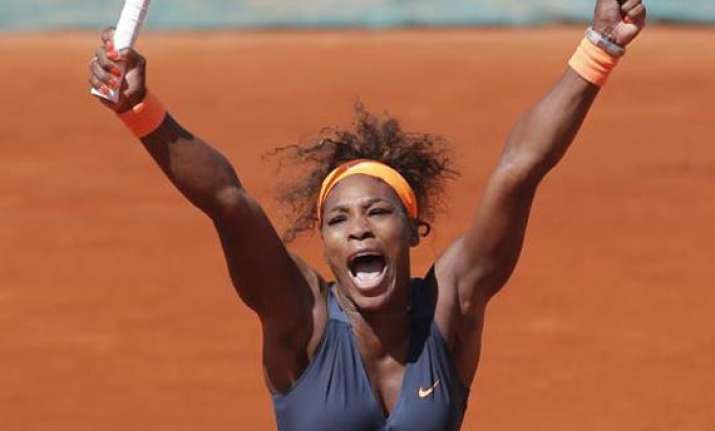 Paris, June 5: Maria Sharapova shrugged off losing the first six games and swept the last four to reach the French Open semifinals on Wednesday.
The defending champion overcame a miserable start in the quarterfinals to beat Jelena Jankovic, 0-6, 6-4, 6-3.
It was the first victory of Sharapova's career after losing an opening set 6-0.
Her opponent on Thursday will be two-time Australian Open champion Victoria Azarenka, who reached her first Roland Garros semifinal by beating Maria Kirilenko 7-6 (3), 6-2.
Sharapova earned her first Roland Garros title a year ago to complete a career Grand Slam. She has won 12 matches in a row at the French Open.
The No. 2-seeded Sharapova against No. 3 Azarenka offers the prospect of a deafening semifinal between the two most notorious grunters in tennis. Azarenka is 7-5 against Sharapova.
"Obviously it only gets tougher from here," Sharapova said, "but I'm really happy I'm at this stage again."
The warmest weather of the tournament greeted the quarterfinalists, and Jankovic quickly had Sharapova sweating. In the first set the Russian repeatedly missed the lines by narrow margins or clipped the net cord, and the match was 35 minutes old before she won a game—and only then because Jankovic double-faulted on break point.
Jankovic won 27 points in the first set, 20 on unforced errors by her opponent.
"I still felt like I was in the match," Sharapova said. "And I was."
She then began to find the range while hitting even harder than before, while Jankovic did her best to withstand the barrage. In contrast with Sharapova's metronomic shrieking, Jankovic went about her business in silence—until she started muttering to herself as her lead disappeared.
"It was a big fight," Jankovic said. "It was great tennis out there. We battled."
Sharapova earned the first break of the final set to take her first lead at 4-3. Toward the end the rallies became longer, and she won the majority, often by hitting shots at improbable angles.
Twice Sharapova yanked lunging backhand returns cross-court for winners. She finished off another point with a forehand struck so violently her necklace flew into her face.
When Jankovic's final shot sailed wide, Sharapova responded with a slack-jawed smile, as though she couldn't quite believe her comeback. She had dropped a first set 6-0 five other times in her career—and went on to lose each match.
Most of her results this year have been less stressful. She's 35-4, with all but four of those matches decided in straight sets.
Azarenka is 27-2 and enjoying her best run in eight appearances at Roland Garros.
She needed 76 minutes to take the grueling first set against Kirilenko, and the Belarusian improved her record this year in tiebreakers to 4-0. The second set went more quickly, with Azarenka losing only six points in four service games.
Azarenka advanced to the semifinals at her fourth consecutive major event.