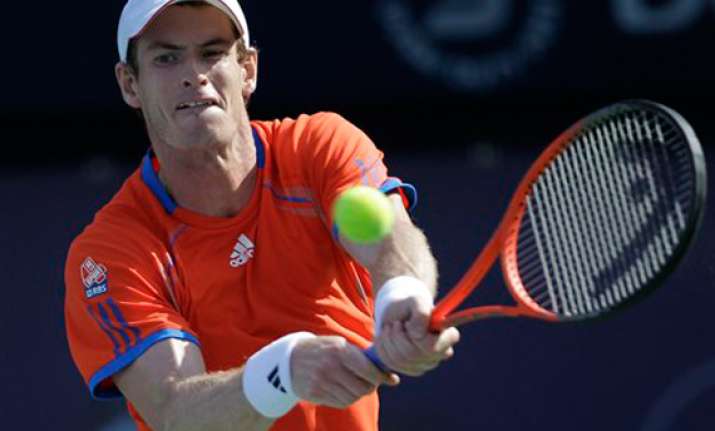 Dubai, United Arab Emirates, Feb 29: Roger Federer brushed aside Michael Llodra 6-0, 7-6 (6) to reach the second round of the Dubai Championships on Tuesday while an error-prone Andy Murray needed three sets to beat German qualifier Michael Berrer.

Fourth-seeded Jo-Wilfried Tsonga also survived a tight match against Marcos Baghdatis, beating the 46th-ranked Cypriot 7-6 (2), 6-4 to set up a second-round encounter with Lukas Rosol of the Czech Republic. Juan Martin del Potro, who won the Open 13 in Marseille last week for his 10th career title, beat Alexandr Dolgopolov of Ukraine 6-3, 7-6 (5).

Federer needed only 17 minutes to win the first set, dictating play on his serve and using a solid return game to break the Frenchman three times.

The second set was a much tighter affair, as both players held their serve throughout and Llodra forced the tiebreaker.

Second-seeded Federer had a 4-2 advantage in the tiebreaker, but Llodra ran off three points to go up 5-4 and had a set point at 6-5.

But Federer saved it with a forehand that just caught the line and then ran off the final two points to win the match in just over an hour.

"It's always great to start off a tournament winning the first set 6-Love. I don't know when that's the last time it's happened to me," said Federer, who is looking for his fifth title in Dubai.

"After that, I really had to sort of make sure I controlled Michael as much as I could because I know he's a dangerous player. He likes to move forward, and he obviously started to serve a bit better."

Federer said he was relieved to have won the tiebreaker, as momentum can change quickly on Dubai's fast surfaces.

"That's how these matches can go sometimes, especially the best of three sets," he said. "You know, you don't even necessarily have to a bad spell of five minutes, but the other guy just clocks some returns and serves well, next thing you know you've lost a set and you're a break down. Then things are a whole lot different."

Federer next faces Feliciano Lopez, who he beat in the 2004 Dubai final. Lopez beat Nicolas Mahut of France 6-4, 6-4.

Murray, playing his first match since losing to Novak Djokovic in the Australian Open semifinals, looked ragged and at times his movement appeared labored in his 6-3, 4-6, 6-4 win over Berrer. He said later that he didn't "feel great" at the start of the match and at times felt nauseous on court.

"It was quite a frustrating match because I was up a break in the second set, and each time I think gave it straight back," Murray said. "And then the third set again I went up a break and gave the break straight back. So I could have made it a little bit easier for myself if I played a bit better."

The third-seeded Murray lost his opening service game, but broke back twice to claim the first set. He was saved by his serve which produced three aces and kept the 116th-ranked German off balance.

Berrer dominated the second set, displaying an improved service game and more aggressive play that forced Murray into a slew of unforced errors. Murray went up 3-2 only to see Berrer break back when he hit a volley into the net.

Berrer broke Murray to force the decider when the 24-year-old Briton made four errors. After hitting a backhand into the net, Murray punched his leg and muttered to himself.

The first four games of the third set went against serve. Berrer then went up 4-3 only to see Murray regain the momentum and win the final three games to clinch the match.

Murray now faces Swiss qualifier Marco Chiudinelli, who beat Nikolay Davydenko 6-4, 5-7, 6-4.

It will be the first time Murray has faced Chiudinelli and he said he needs to make his game more "match tight" if he wants to go deep in the tournament.

"He's quite a flat striker of the ball. He's pretty quick. He's obviously going to have a lot of experience as well on his side," Murray said. "He had a very good win today and a couple of good wins in qualies, so he's playing well."

Baghdatis served for the first set at 5-4 against Tsonga, who complained of fatigue coming into his match. But Tsonga broke back and then easily won the tiebreaker.

In the second set, the fifth-ranked Tsonga stepped up his game. He broke Baghdatis to go up 3-2 and never trailed after that.

"It was a tough challenge," said Tsonga, who won the title in Qatar last month and reached the semis last week in Marseille.

"Because it was not easy. Not a lot of energy. Without this energy it's difficult to play. But I was there mentally and I did it, so I'm really happy."

In other first-round matches, fifth-seeded Tomas Berdych made quick work of Benjamin Becker, winning 6-2, 6-2 in just over an hour. Mikhail Youzhny reached the second round when French opponent retired with the flu after losing the first set 6-3.