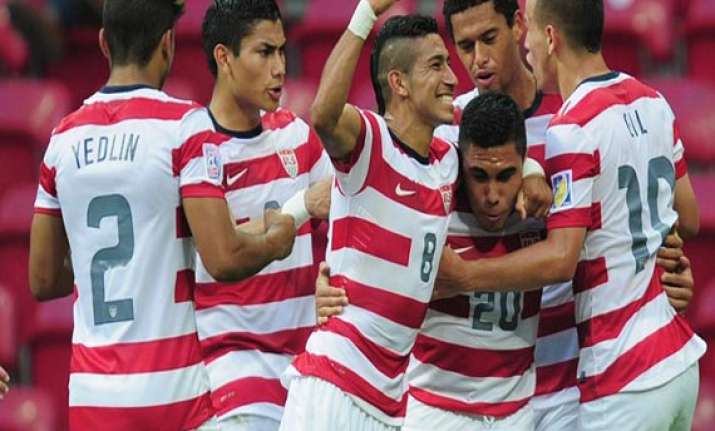 Istanbul, Jun 25 : The United States improved its chances of reaching the knock-out stages of the Under-20 World Cup, earning a hard-fought 1-1 draw with France on Monday after a late strike by Daniel Cuevas.
France looked on pace to win and advance after Auxerre striker Yaya Sanogo scored his second goal of the tournament from a penalty kick in the 48th minute. It came after Dimitri Foulquier was sideswiped by America's Javan Torre in the area.
The United States, which lost its opening match to Spain, had few chances and missed those it did have—the worst when Luis Gil's penalty was easily saved in the 65th.
But the Americans grew in confidence toward the end and it paid off in the 85th. Gil made up for his miss, curving a free kick into the area that Cuevas pounced on and scored.
"I feel like they were confused. They couldn't get the ball out and luckily it took a bounce my way and I got to push it in," Cuevas said.
The late goal showed the character of the American team, he said.
"Our team is very united and we are always together and pushing forward," Cuevas said. "If things don't go our way, we keep trying and keep trying until they do. Luckily we got the tie."
American Coach Tab Ramos admitted he was a "little disappointed" with the lackluster play from the Americans early on but happy to come away with a draw.
"My disappointment is that in a game like today we should have gotten all three points," Ramos said. "At the end of the day, it was great courage, effort by our team."
With France and Spain having won their openers, the United States needs a victory in its final match against Ghana to advance outright.
But it could still advance as one of the four best third-placed teams. France failed to repeat the form that beat Ghana 3-1 in its opener.
"I don't think we had a great control of the game tonight," France coach Pierre Mankowski said. "It feels a bit strange because the U.S. team was hardly dangerous. But they had situations they should have never had. We conceded a penalty and a free-kick, which led to their goal."
France will be without captain Paul Pogba for their final group match against Spain after a second yellow card in two matches.
"The boys were really disappointed at the end of the game," Mankowski said. "Playing without Pogba for the last crucial game against Spain is something we have to figure out tomorrow when things will be quieter."
In the other early match in Group B, Nigeria got its campaign on track with a 3-0 win over newcomer Cuba.
Aminu Umar scored twice in four minutes and captain Abdul Ajagun got his third of the tournament as the African team easily beat Cuba.
Nigeria opened the scoring when Olarenwaju Kayodefed fed Umar for the easy tap-in with 19 minutes gone. Four minutes later, Abdullahi Shehu drilled a cross which Umar flicked between his legs for the goal.
The Nigerians completed the route in the 67th when Kingsley Madu's cross was headed home by Ajagun.