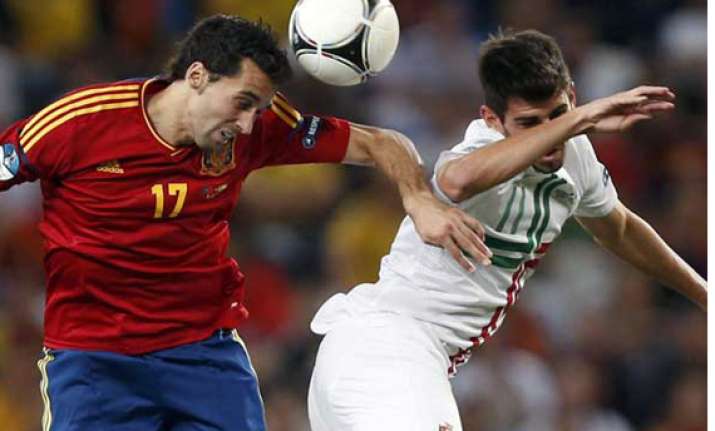 Donetsk, Ukraine Jun 28 :
Cristiano Ronaldo watched helplessly as the penalty shootout drama passed him by.
The Portugal captain, and star attraction at the European Championship, stood slightly apart from his teammates on Wednesday as they watched Spain advance to the final.
The defending champions won the shootout 4-2 after a 0-0 draw in the first semifinal.
Ronaldo never even got to take his kick.
He was fifth in line to step up to the spot—a strategy rendered worthless when the Spanish, who kicked first, sent their fifth man Cesc Fabregas to seal victory.
Ronaldo asked to be last to go, potentially as the match-winner for a third straight game at Euro 2012.
"It's just a question that I speak with the coach and he said to me, 'You want a kick?' and I said, 'Yes, in the fifth,"' Ronaldo told reporters.
"We missed two penalties so it's frustration."
Still, Ronaldo had been there, and done it, before.
At the 2006 World Cup in Germany, he was the decisive fifth penalty-taker in Portugal's shootout victory over England in the quarterfinals, following a 0-0 draw in Gelsenkirchen.
This time, Ronaldo leaves a tournament in which his sheer talent and force of will had seemed capable of lifting Portugal to the title. His two goals beat the Netherlands in a decisive group game and another dispatched the Czech Republic in the quarterfinals.
As Fabregas walked forward to place the ball, Ronaldo peeled away from his teammates who stood on the halfway line, arms around each others' shoulders in solidarity.
Ronaldo stood two steps back in the center circle, and slapped both hands together when Fabregas's low kick to Patricio's right eluded the 'keeper's outstretched right hand, and rattled the post before angling across the goal line into the net.
Slapping his hands together, Ronaldo hitched up his shorts and stood with his hands on his hips, alone until Portugal coach Paulo Bento came from the touchline to offer consolation.
"It's always difficult moments," Ronaldo said, of losing on penalties. "I expressed myself in the way that I feel. I think we played really well but to lose on penalties is always unfair and it's always unlucky."
Bento insisted "I don't regret anything" about the order of penalty takers, which he had agreed in an on-field huddle with his captain.
"We had defined before what would be the best conditions to succeed. We didn't (succeed)," Bento said through a translator.
"If it had been 4-4 and he would have done the last penalty, we would talk in a different way."
Portugal never led in the shootout despite goalkeeper Rui Patricio saving the first Spanish penalty from Xabi Alonso.
Midfielder Joao Moutinho had Portugal's first kick saved by Spain goalkeeper Iker Casillas.
Confusion arose in the Portuguese camp when, at 2-1 to Spain, defender Bruno Alves strode forward fully 20 meters (yards) before Nani caught him up to remind that he'd gone out of turn.
 The tension filtered back to Ronaldo who ran his hands through his hair, appearing anxious.
When Alves's actual turn arrived—after Nani scored, and Spain defender Sergio Ramos cheekily chipped in a soft, slow effort—he sent a rising shot onto the crossbar.
With his team leading 3-2, Fabregas finished off Portugal for the second straight major tournament, and set up a final on Sunday against Germany or Italy in Kiev.
"I hope Spain win now because I play there and I have a lot of friends there," said Ronaldo, who was among seven Real Madrid players—three for Portugal and four for Spain—who featured at the Donbass Arena.
Ronaldo's second-half duel with club colleague Ramos was a highlight of an increasingly confrontational match in which Portugal had chance to win in 90 minutes, but was left hanging on in extra time.
Three times in a 10-minute second-spell Ronaldo created shooting chances for forward Hugo Almeida who blazed all three off target.
Ronaldo meanwhile failed to trouble Casillas with two free kicks in prime shooting range. After his second miss, Spain fans taunted with him with chants of "Messi, Messi, Messi", referring to his Barcelona rival.
Ronaldo's best chance arrived in the 90th minute when, on a rapid counterattack, he took an awkward pass from Raul Meireles in his stride but could not get his left-foot shot on target.
It was not to be his night.
"We just lost to Spain on penalties so we have to be proud," Ronaldo said.