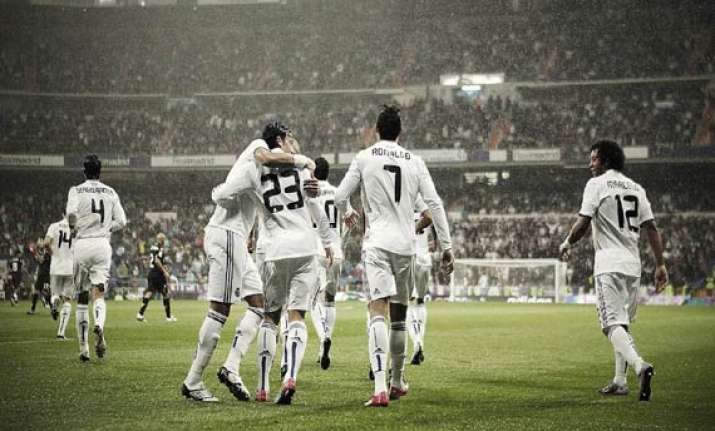 Madrid: Real Madrid spoiled crosstown rival Atletico Madrid's short honeymoon as Spanish leader by winning a bad-tempered Copa del Rey semifinal first leg 3-0 on Wednesday.
Pepe spent much of the game riling up Atletico striker Diego Costa after putting Madrid ahead in the 17th minute at Santiago Bernabeu Stadium where his shot deflected off defender Emiliano Insua past goalkeeper Thibaut Courtois.   
The hosts dominated the tetchy derby as Courtois made a string of first-half saves before Jese Rodriguez broke through in the 57th as the young striker continued his impressive season by using a quick touch to guide Angel Di Maria's pass under the Belgium `keeper.   
Diego Costa's frustrations got the better of him as a yellow card in the 61st means Atletico's leading scorer will miss the return leg next week, which leaves the attack depleted with David Villa also expected to be sidelined by injury.   
With Gareth Bale out to injury again and Cristiano Ronaldo strangely subdued, Di Maria capped a productive night with a goal from another deflected shot in the 73rd. It came just after Luka Modric cleared Diego Godin's header off the goal-line for Atletico's lone scoring opportunity.   
Madrid has yet to concede in eight domestic cup matches this season.   
"We knew that was their game, to play with intensity, so we had to play the same way," Di Maria said after Madrid took a page out of Atletico's book and played with his pressure to keep the visitors from getting any time on the ball.   
Atletico lost for only the second time all season -- and first since October -- just three days after taking the Spanish league lead for the first time since 1996.   
"We didn't come through and play the kind of game we wanted to. It's unfortunate but there is still the return leg," Atletico midfielder Koke said.   
Barcelona welcomed Real Sociedad to the Camp Nou later Wednesday in the other first-leg semifinal.