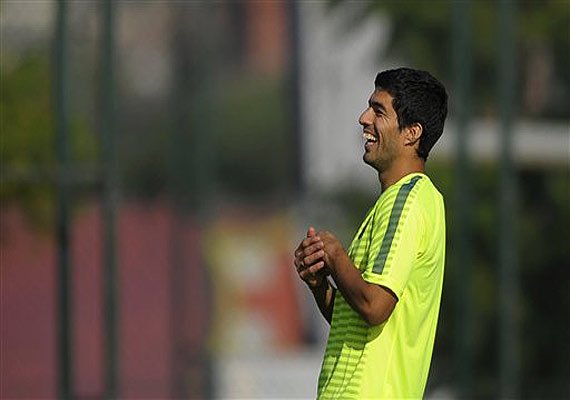 Barcelona, Spain:  Luis Suarez's long wait is almost over. The much-maligned forward will play his first minutes on Saturday against Real Madrid after completing his ban for biting an opponent four months ago at the World Cup.
"(Suarez) will have some minutes for sure, how many is the million-dollar question," Barcelona manager Luis Enrique said on Friday, after having wavered on the question for most of the week in the run-up to the clasico.
   
"It's an important occasion for him, to play against Madrid, and make his official incorporation with the team." Suarez hasn't played an official match since biting Italy's Giorgio Chiellini in June. That earned him his third multi-game suspension for sinking his teeth into an opposing player after also biting rivals while playing for former clubs Ajax and Liverpool.
   
Undeterred by his latest act of gross misconduct, Barcelona spent 97 million euros (then $130 million) to sign the Premier League's top scorer from last season.
   
Suarez finishes his ban for his club on Saturday, just before Barcelona visits Madrid looking to extend its lead of the Spanish league. He has played a handful of friendlies for Barcelona and Uruguay in the meantime, and is still banned from playing for Uruguay in the Copa America and some World Cup qualifiers next year.
   
Madrid coach Carlo Ancelotti said he was pleased Suarez would return to the pitch, even if it will be at his Santiago Bernabeu Stadium and adding to a formidable attack already featuring Lionel Messi and Neymar.
   
"He is a fantastic player," Ancelotti said. "For football and the league it is great news he is back." Luis Enrique said he was not worried about a possible provocation of Suarez by Madrid defender Pepe, who is also known for his aggressive outbursts that included kicking Getafe's Javier Casquero repeatedly in 2009.
   
"Football is a wonderful sport and there is contact, permitted contact, and a referee whose job it is to judge what takes place," the former Barcelona and Madrid player said. "We will try for our players to show their best sides. They are grown-ups and they all know one another."
   
Luis Enrique also said that holding midfielder Sergio Busquets was fit after a nagging pelvic injury sidelined him for the past two matches. Ancelotti, for his part, said Spain defender Sergio Ramos was also fit after missing four games for club and country and would start alongside Pepe.
   
Gareth Bale did not make Madrid's squad as he recovers from a muscle injury in his buttocks. Besides Suarez's highly anticipated debut, Messi will be seeking the one goal he needs to equal the league's all-time leading scoring mark of 251 goals.