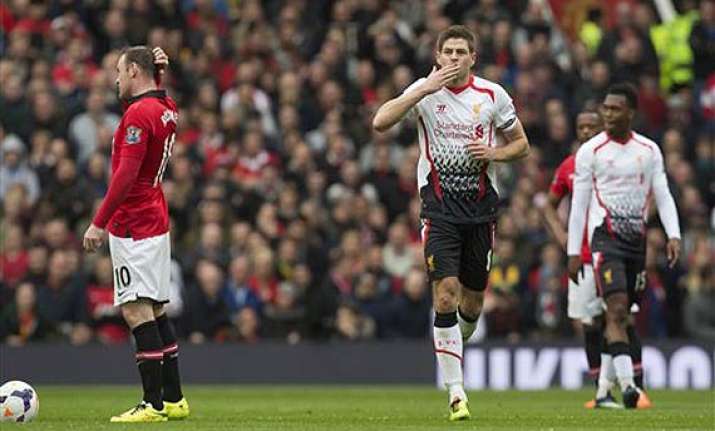 MANCHESTER, England :
Liverpool underlined its new-found superiority over Manchester United with a humbling 3-0 victory over its great rival on Sunday, virtually ending the beleaguered champions' chances of qualifying for the Champions League.
On the darkest day of David Moyes' tumultuous first season at Old Trafford, United was outclassed as Steven Gerrard converted two penalties - missed a third, and Luis Suarez completed the crushing win with his 25th goal of the campaign.
Liverpool moved up to second and within four points of leader Chelsea - with a game in hand, and can realistically aim to win a first league title since 1990.
 "To come here and dominate from start to finish, we're still going away slightly disappointed that we didn't score more goals," said Gerrard, whose penalties came in the 34th and 46th minutes. "We've showed today that we are genuine contenders and we are going to fight to the end for this."
While Liverpool capitalized on Chelsea's 1-0 defeat at Aston Villa on Saturday with another effervescent attacking display, United couldn't be at a lower ebb after being humiliated in arguably the biggest match in English football, which was watched by Argentina great Diego Maradona.
Their defending was shambolic and reckless -- there could have been more than three penalties awarded -- and Nemanja Vidic was sent off for his second booking in the lead-up to the third spot kick that Gerrard struck against the post in the 78th.
 Moyes has a massive job to pick his team up in time for Wednesday, when United tries to overturn a 2-0 first-leg deficit against Olympiakos in the Champions League's last 16. That is their final shot at silverware.
 "It's a nightmare," United striker Wayne Rooney said after the team's fifth home defeat in the league, which left it 11 points off the top four ahead of Tottenham-Arsenal later Sunday. "It's one of the worst days I've ever had in football."
Liverpool had lost on its previous six visits to Old Trafford and seemingly had an inferiority complex whenever it came to the home of its biggest foe.  
Brendan Rodgers' men were brighter and more courageous on the ball, played at a quicker tempo and were more incisive going forward. For the first time in a generation, they were widely seen as favorites for a match at United, even in the opinion of Moyes. It could have been 6-0 or 7-0 by the end as Liverpool ran amok.
In the closing stages, with United down to 10 men and having virtually given up, it evoked memories of the 6-1 home loss to Manchester City two seasons ago.
Liverpool has gone from finishing 28 points behind United, the champions last season, to 11 points ahead of them.
"The biggest thing of where we have come in the last year is belief," Rodgers said.
It got even worse for Moyes' beleaguered side when Vidic was given a second yellow card for bringing down Sturridge in the box in the 77th. Gerrard struck a low effort against the post but Liverpool wasn't to be denied a third, Sturridge slipping a pass through for Suarez to collect and shoot home.