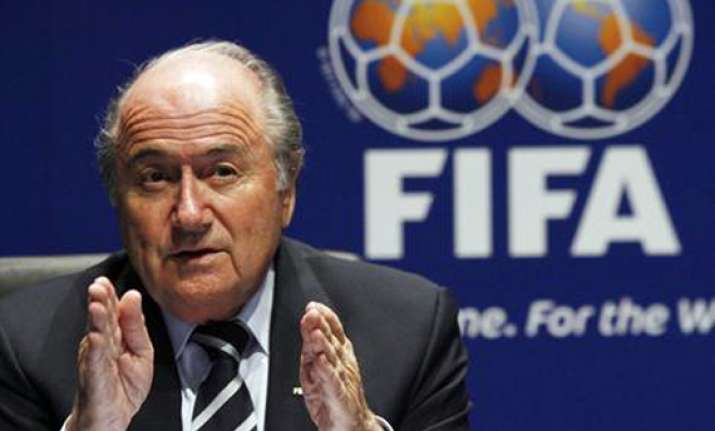 Geneva, Nov 17: With several top footballers facing allegations of hurling racial abuse at opponents on the pitch, FIFA President Sepp Blatter sparked an angry reaction on Wednesday by suggesting that players involved in such incidents could settle the matter with a simple handshake.

Blatter downplayed incidents of abuse on the field, saying they were "forgotten" after matches, and denied in an interview with broadcaster Al-Jazeera that football had a problem with racism.

His comments sparked outrage in England where authorities are investigating two high-profile cases of alleged verbal abuse among players during recent Premier League matches.

Manchester United defender Rio Ferdinand, whose brother Anton was the target of an alleged racial slur by England captain John Terry, wrote on Twitter that he was "astonished" by Blatter's reported comments.

"I feel stupid for thinking that football was taking a leading role against racism.....it seems it was just on mute for a while," Ferdinand wrote.

Blatter's comments come on the same day that Liverpool forward Luis Suarez was charged by the English Football Association with racially abusing Manchester United defender Patrice Evra, who is black.

Evra told French TV that Suarez used a racist slur "at least 10 times" during United's 1-1 draw at Liverpool in the Premier League.

Suarez has denied the allegations and has been backed by his club throughout the investigation.

Terry has said his comments were taken out of context, but is being investigated by the FA and London police.

Seeking to calm a growing furor, Blatter issued a further statement that his comments on had been "misunderstood," and that he is taking the issue of racism seriously.

"I am committed to fighting this plague and kicking it out of football," Blatter said.

The FIFA president had earlier turned to Twitter trying to calm the growing anger in England.

"Racism and discrimination of any kind have no place in football," Blatter wrote. "I have said this many times before, and I will say it again and again."

"However, - and it is not an excuse - sometimes, in the heat of the moment, things are said and done on the field of play," he wrote.

"This does not mean that, in general, there is racism on the field of play."

In the interview with Al-Jazeera, Blatter sought to defuse suggestions that racism and discrimination were problems in world football.

"During a match you may make a movement towards somebody or you may say something to somebody who is not exactly looking like you, but at the end of the day it is forgotten," Blatter insisted.

"Racism is if there are spectators or, outside the field of play, there are movements to discrimination, but, on the field of play, I deny that there is racism."

Blatter went on to suggest that if league officials have to deal with an issue or complaint then they should "bring two people together and say 'Shake hands."'

In further evidence that suggests racism persists in football stadiums, UEFA will on Thursday prosecute a case in which England was the victim of alleged discrimination.

The Bulgarian football federation has been charged after its fans allegedly directed verbal abuse at England players during a European Championship qualifier in Sofia in September.