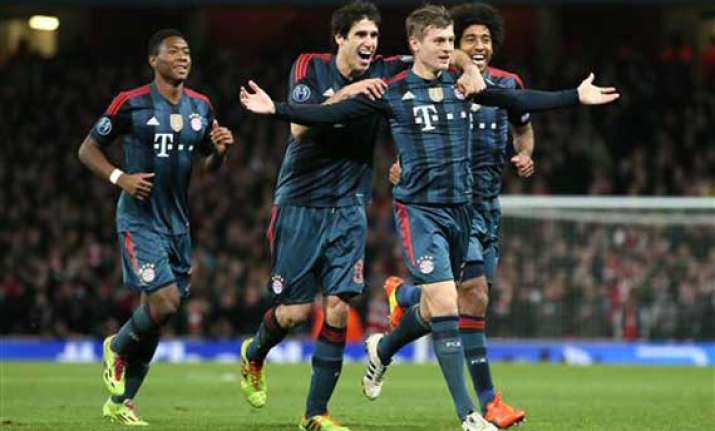 London: Second-half goals from Toni Kroos and Thomas Mueller gave holder Bayern Munich a 2-0 victory over 10-man Arsenal and a firm grip of their last 16 Champions League tie on Wednesday.
Kroos scored in the 54th minute with a stunning strike, curling the ball past Arsenal goalkeeper Lukasz Fabianski, who came on after Wojciech Szczesny was sent off for fouling Arjen Robben.   
An unmarked Mueller scored with a powerful header from close range in the 88th.   
Both teams missed penalties in the first half, with Arsenal playmaker Mesut Ozil shooting straight at Manuel Neuer, and Bayern midfielder David Alaba clipping a post. Szczesny was sent off in the 37th minute for following through on Robben.   
Arsenal manager Arsene Wenger was clearly frustrated by the sending off, saying it was a great game until halftime.   
"It killed the game," Wenger said. "The game until then was top quality. The second half was boring. It was one-way traffic."   
He said Szczesny went for the ball and suggested the decision would have been different had it been a Premier League match.   
Bayern coach Pep Guardiola disagreed with Wenger, saying he thought it was a penalty and a sending off. Guardiola acknowledged, however, that Arsenal were the better team in the first 15 minutes and that the sending off worked to his side's favor.   
"The game changed completely," the former Barcelona coach said. "They had nine players in the box and we had to wait patiently."   
With the odds clearly stacked against the London side, Arsenal can only hope it repeats last year's 2-0 win at Bayern in the second leg on March 11. In the night's other match, Atletico Madrid forward Diego Costa scored a late winner to beat AC Milan 1-0 at San Siro.   
At Emirates Stadium, the match was breathless until the sending off, with both sides attacking and trying to gain an advantage. Kroos nearly opened the scoring for Bayern in the third minute when he forced Szczesny to make a flying save with his fingertips.   
Arsenal wasn't unnerved and starting to dictate play with chances for surprise starter Yaya Sanogo and Santi Cazorla. Bayern's defense started to panic and Ozil won a penalty in the eighth minute when center back Jerome Boateng clattered into him as the German swiveled past.   
However, the playmaker failed to convert the spot-kick and Neuer palmed the ball to safety. It was Ozil's second penalty miss in the Champions League this season, after misfiring against Marseille in the group stage.   
Alex Oxlade-Chamberlain created problems down the right for Bayern, but the five-time European champion settled down and started to stretch Arsenal's defense as the first half wore on.   
Robben won a penalty in the 37th, when he jumped to control a ball, which bounced off his knee and appeared to be going out of play. But Szczesny was sent off when he clattered Robben's shin on the follow-through.   
Fabianski came on and Alaba's spot kick clipped the outside of the left post. Bayern dominated the second half and despite resolute defending from Arsenal, the home side finally caved in.   
The first goal came out of nowhere with a simple exchange of passes on the right, but Kroos was given too much space and he unleashed a shot from about 20 yards (meters). A tired Arsenal back line switched off late in the second half, with Philip Lahm finding Mueller whose header bounced into the ground past Fabianski.   
Kroos nearly made it 3-0 with a low shot that struck a post in stoppage time.   
Bayern won the treble last year under Jupp Heynckes, and his successor, Guardiola is on course to replicate the team's domination of European football.   
The Germans are unbeaten in the Bundesliga this season, winning 19 of 21 league matches, and are 16 points clear at the top. Guardiola was without injured attacking midfielders Franck Ribery and Xherdan Shaqiri.   
The only surprise in team selection was Wenger's decision to start Sanogo over striker Olivier Giroud, who recently was accused of having an affair with a model at a hotel before Arsenal's 5-1 loss to Liverpool. Wenger insisted he wasn't punishing Giroud, just resting him.   
"I decided to give him a breather for one, two games," he said.   
Giroud, who issued an apology at the weekend after the accusations were reported, tweeted on Tuesday: "Ultimate precision with respect to my apologies...Yes I made a mistake but not I have not committed adultery! Things are clear..."