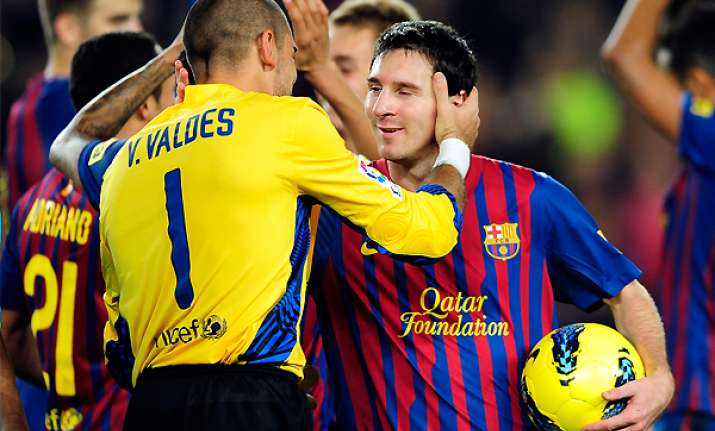 Prague, Oct 31: With Lionel Messi having rediscovered his scoring touch, Barcelona can clinch a berth in the second round of the Champions League when it plays at Czech champion Viktoria Plzen on Tuesday.

Messi ended a goal drought of three matches with his 13th career hat trick, and second of the season, to take his tally to 19 goals this campaign when Barcelona beat Mallorca 5-0 on Saturday to extend its unbeaten run to 16 games in all competitions.

The defending European champion is tied atop Group H with AC Milan. The teams have six more points than Plzen and Belarus champion BATE Borisov at the halfway stage of the group phase. Milan could advance when it visits BATE on Tuesday.

Plzen and BATE are realistically fighting for third place in the group to receive a spot in the Europa League.

Barcelona eased past Plzen 2-0 in the first of their back-to-back games at the Camp Nou on Oct. 19 after goals from Andres Iniesta and David Villa.

Messi hit the post twice in a match in which Barcelona controlled 78 percent of possession. With Plzen promising to focus more on attack at home, Messi is likely to find enough space to have a good chance of scoring his 200th goal for the club.

"We know Messi is the world's best player, that he's the leader of this team and a player who changes a game," Barcelona midfielder Sergio Busquets said. "But he's not a machine and there are games when he won't score goals."

Coming off 4-1 and 5-0 league victories since losing at Barcelona, Plzen is ready to fight for a decent result. But the players realize that there's a huge difference between Barcelona and Czech first-division clubs.

"When you score, it boosts confidence," Plzen midfielder Milan Petrzela said. "I hope we could be better than in the previous game. Barcelona comes to win, that's for sure. They play a game of their own and they don't care whom they face."

Barcelona forward Pedro Rodriguez has been ruled out due to an ankle injury for the game at Slavia Prague's stadium because Plzen's arena is being renovated.

Milan is riding a four-match winning streak in Serie A that has moved the Italian champion up from 15th place to within two points of the lead.

Zlatan Ibrahimovic produced his first double of the season in a 3-2 win at Roma on Saturday.

"After a bunch of injuries, the squad continues to improve," Ibrahimovic said. "If we continue this way we have a great future. We're better than last year."

In other recent matches, midfielder Kevin-Prince Boateng scored a hat trick in a 4-3 win over Lecce and Antonio Nocerino also scored three in a 4-1 win over Parma last week.

"We're allowing too many goals but we've got a crazy amount of firepower," Milan vice president Adriano Galliani said following the victory over Roma.

Milan striker Alexandre Pato is out with a thigh injury while forward Antonio Cassano was taken to a hospital with an undisclosed illness. Boateng was bruised in the match against Roma.