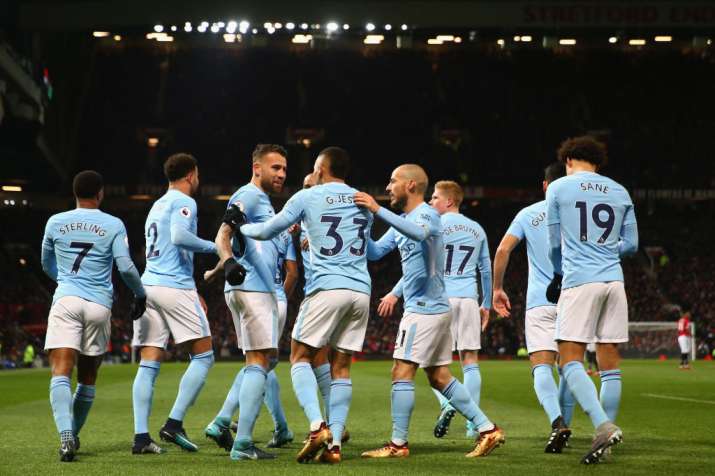 Manchester City head coach Pep Guardiola hit back at Manchester United manager Jose Mourinho's penalty claims saying they won the derby clash 2-1 because they were the better side. The classic derby saw a different side of the hosts as Mourinho did not plan on parking the bus till they were a goal down. It was all level before halftime as Silva and Rashford scored.
City moved 11 points clear before Christmas after the win at Old Trafford. They look strong favourites now to win the crown.
Mourinho claimed United should have been awarded a penalty when Ander Herrera was booked for diving after a challenge from Nicolas Otamendi.
"Last season was the same. We won because we were better. In all departments we were better," said Guardiola.
On the penalty decision, he added: "For me it is not a penalty first of all because the intention of Otamendi is not to bring him down.
"When a team has the courage to have 65-70-75 percent ball average possession, it is because it is an honest team. Because he wants to play and that is what we have done.
"We are clear, we are open, we want the ball and we want to attack and try to win the game in the way we believe.
"The other can do what he wants but my players want to play and sometimes they are quicker sometimes they are faster but it is not a team to look for something special because we are honest."
Besides ending United's home record of 40 games without defeat, City also equalled the English Premier League record for successive games -- taking it 14.
"In December, you cannot be champions," he added. "Of course it is important for our confidence to feel that we can compete on the biggest stages and have a huge personality.
"We are so happy but in three days, with no recovery, we go to Swansea, and three days after, Tottenham Hotspur, so we will see what position we are in March and April but we are so happy to make 14 games in a row winning."
(With IANS Inputs)