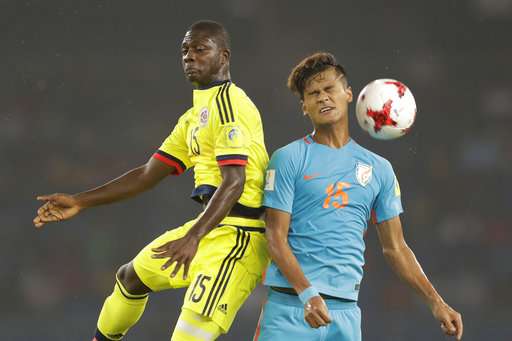 History-maker Jeakson Singh, who will be remembered as the one who scored India's first goal in any FIFA tournament, says the team is "ready to fight it out" in its final group game of the U-17 World Cup against Ghana in Delhi on Thursday. 
When defensive midfielder Jeakson neutralised Colombia's lead by scoring the country's first-ever World Cup goal in its second group game, India were moments away from securing their maiden draw in only the second attempt. 
"We will play as per our plans. As a team, we are prepared to fight it out. We played well against Colombia. We have fought hard and will do the same against Ghana. We are ready for the African challenge," Jeakson said on the eve of the match. 
Going back to the Colombia match, which he called sweet and sour, a modest Jeakson said his teammates deserved all the credit. 
"I'm very happy and I would like to thank my teammates as because of them I got the opportunity to score. I only played my part. Just because I scored it doesn't mean that I should get all the credit. It was a great feeling for me as well as for the entire team and country," he stated. 
"I want to dedicate the goal to my parents. I talked to my mother and she was very proud of me. My father is unwell after having suffered a cardiac arrest but he knows that I've scored for India," he added. 
He spoke about the screaming fans as India stood on the verge of creating a bigger history, only to be denied due to the lack of experience at this level. 
"I was very excited at that moment; in fact, we all were watching the fans scream. But we conceded immediately and it was quite a shattering feeling. 
"It was such a sweet and sour feeling for all of us. There were many who congratulated me. I was happy; we were all happy. But at the same time, it was so much of a disappointment as we couldn't get a result which I feel we fully deserved.