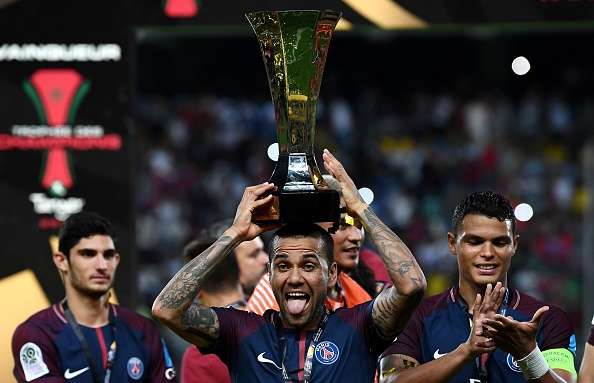 Debut right back star Dani Alves has settled well in Paris Saint Germain as he lifts the Super Cup after defeating Ligue 1 champions Monaco 2-1. Alves's opened his scoring account when the right-back scored a screamer of a free kick from 30-yards to equalise the score 1-1. Adrien Raboit scored later on to give Paris the lead to win the Super Cup. The Brazilian has played one game, scored one goal, assisted once and won the Man of the Match in his debut for PSG. That's just the start Paris expected when they signed the 34-year old defender on a transfer from Juventus after his 1-year contract expired at Turin this year. 
Alves took to Instagram to express his feelings and reaction on winning his first cup with PSG. 
Dani Alves snubbed Manchester City to set foot at Parc des Princes on a 2-year deal. It was destined that the right back defender would reunite with Barcelona's former coach Pep Guardiola, but the Brazilian decided to switch ways and join the Les Parisians as it was 'his desire to win trophies' according to media reports. A statement that upset the City fans and Guardiola himself. 
Win a trophy, get presented with the Man of the Match award, score a goal, assist a goal is just the type of footballer Dani Alves is. Alves can get as comfortable in the club as he is placed along with his Brazilian teammates Thiago Silva, Marquinhos, Lucas Moura and soon to be expected Barcelona winger Neymar Jr.
Dani Alves played with Neymar in Barcelona when he left in 2016 to join the Old Lady in Italy. Speculations continue to grow and is almost certain that the Brazilian and Barcelona winger will join the club on a record breaking deal of 220 Million Euros. 
With PSG racking in players with big money moves, the Les Parisians look quite competitive to compete for the UEFA Champions League this year. With the defence, midfield and attack looking strong, winning the Ligue 1 isn't enough for Paris but to win the Champions League will be the icing on the cake for Unai Emery's men.
PSG wil start the Ligue 1 season as they face promoted club Amiens on August 5.