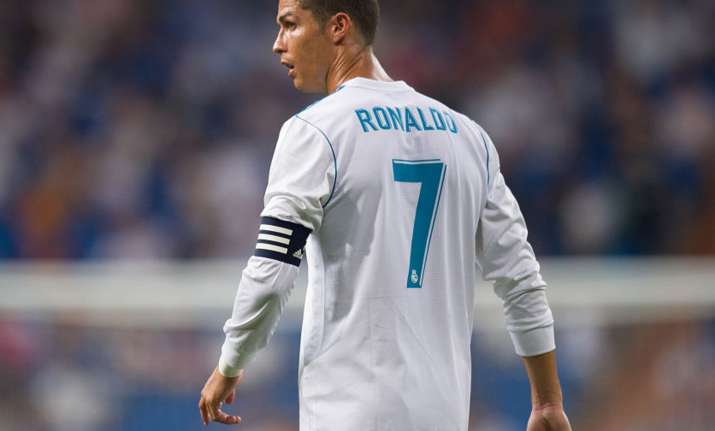 Making a statement on-field and off-field in a classy manner is what only Real Madrid's Cristiano Ronaldo can do. When the winger is not on the field, he is seen haunting clubs with his screamers, the four-time Ballon d'Or winner does have a knack to show off his pricey possessions. Ronaldo is now playing with his new toy, the Bugatti Chiron which costs 1.85 Million Pounds. 
One of Ronaldo's favourites hobbies are to collect cars. He already owns the Bugatti Veyron, a couple of Ferraris, Mercedes, the Lamborgini Aventador and the list could go on but the latest addition is definitely an eye-catcher.
The Portuguese forward has added another monster to his collection of glittery cars. The Los Blancos star seems to be in a celebratory mood after thrashing Borussia Dortmund 3-1 with his brace.
Ronaldo took to Instagram to introduce his monster and posted a video as well along with his son, Cristiano Junior. The flamboyant superstar even had the 'CR7' embedded on the car's headrests.
Ronaldo is back to his scoring ways after serving a five-match suspension which he faced in the Spanish Super Cup against arch-rivals FC Barcelona. Real Madrid recently travelled to Germany to face Dortmund in the UEFA Champions League group stages where the winger tormented the hosts with two goals.  
Ronaldo has had a pretty decent season so far as Real Madrid have won the Champions League title back to back, picked up his fourth Ballon d'Or last year and recently bagged the UEFA Player of the year. 
Real Madrid have won both of their group matches in the Champions League and will next face Premier League's Tottenham Hotspurs for the top spot.
The Los Blancos will take on Espanyol in the Spanish League on October 2 at the Santiago Bernabeu.