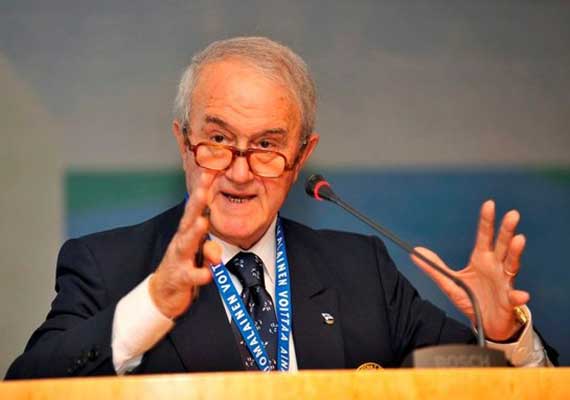 Lausanne, Switzerland, July 10: The top rhythmic gymnastics official from the London Olympics has been expelled from the sport's governing body for what it called "irregularities" during coaching courses for judges late last year.
The International Gymnastics Federation has stripped technical delegate Maria Szyszkowska of Poland of her membership, and excluded her "from any form of participation in all FIG events and activities."   
"(The disciplinary commission) has further decided to suspend the members of the former Technical Committee from their official duties until December 31, 2014," the governing body said in a judgment announced late Tuesday.   
The six technical panel members are Caroline Hunt of the United States, Mariya Guigova of Bulgaria, Noha Abou Shabana of Egypt, Daniela Delle Chiaie of Italy, Shihoko Sekita of Japan and Natalyia Kuzmina of Russia. They can appeal the sanctions within 21 days.   
FIG said the six can continue to train judges, but are barred from overseeing examinations or judges "at any competition" -- including at the rhythmic world championships starting Aug. 28 in Kiev, Ukraine.   
Another official, Pancracia Sirvent Mut of Spain, was formally warned.   
The case also implicated 56 judges who attended coaching courses held in Bucharest, Romania; Moscow, Russia; and Alicante, Spain, last November and December.
Last month, FIG said they were "implicated in irregularities" at those courses, including having "the same scores and same percentages" and that "arbitrary and unjustified bonus were given to participants and that examination was not done anonymously."   
FIG launched its investigation in January. A disciplinary panel originally found "no proof of active corruption from the judges themselves" and gave them "the benefit of the doubt."   
FIG President Bruno Grandi appealed those verdicts, believing that evidence of wrongdoing had been shown to justify prolonging the probe.   
Qualifications gained on the disputed courses have been revoked, and FIG has pledged to repeat the tests in Germany before choosing officials for the world championships.