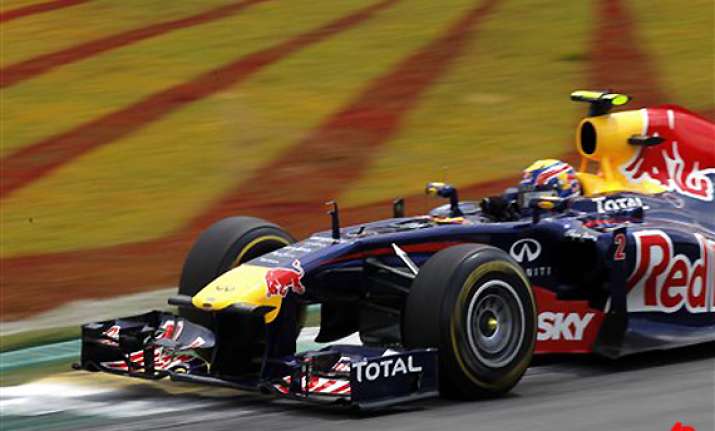 Sao Paulo, Nov 27: Mark Webber won the season-ending Brazilian Grand Prix on Sunday after Red Bull teammate Sebastian Vettel struggled with a gearbox problem.

Vettel, who had already secured the Formula One title, still finished second after letting Webber get past him almost halfway through the race at the 4.3-kilometer (2.6-mile) Interlagos track.

Jenson Button of McLaren finished third to secure second place in the drivers' standings.

Webber easily passed Vettel on lap 30 after his teammate reduced his pace after being told by the team that there was something wrong with his gearbox.

Webber finished third in the championship with the victory, his first of the season. It was his seventh overall in F1, and the second in Brazil after winning in Interlagos in 2009.

Vettel, the winner in Brazil in 2010, won 11 races this season but finishes the year without victories in the last two races. He retired on the first lap in Abu Dhabi because of a puncture.

Webber took the lead when Vettel gave his teammate plenty of space at the end of the main straight.

Red Bull told Vettel on lap 14 that data from his car showed a gearbox problem and asked him to short shift when in second gear. The problem then got worse and the team later said Vettel had to short shift in every gear, considerably slowing his lap times.

After Webber got past, though, Vettel again increased his pace and had no problem staying behind his teammate. He even set fastest laps a couple of times.

Fernando Alonso of Ferrari was fourth and crowd favorite Felipe Massa, in his 100th race for Ferrari, was fifth.

Lewis Hamilton, the winner in Abu Dhabi two weeks ago, also had a gearbox problem on his McLaren and eventually retired on lap 48.