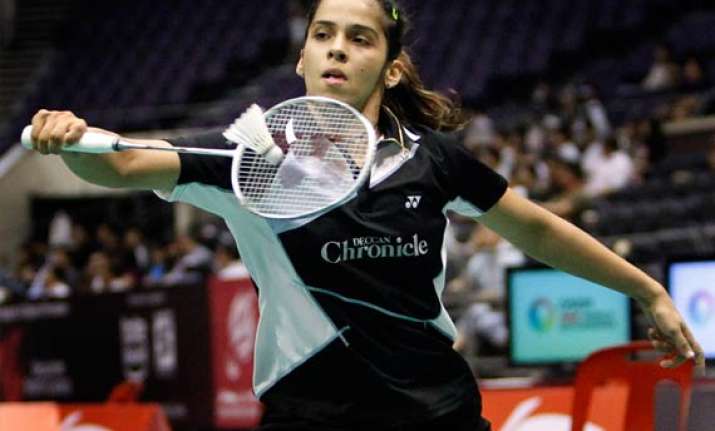 Singapore, Jun 17: Fourth seed Saina Nehwal suffered one of her biggest blows this season, failing in her defence of the Singapore Open Super Series, failing even to reach the quarterfinals. The Indian was beaten in the second round by Chinese Taipei's Cheng Shao Chieh 8-21 21-10 21-19.

Saina's defeat ended the Indian interest in the competition, as her compatriot Arundhati Pantwane had lost her first round match late on Wednesday.

The match showcased a dramatic change in fortunes. Saina demolished Cheng in the first game, leading from start to finish and allowing her opponent only eight points.

However, from then on, the Indian was below par, as Cheng gave Saina the same treatment, equalling at one game-all by winning the second 21-10. The decider was tight, and both were locked in a tense battle until 14-all. From there, Cheng took four consecutive points, and then maintained the lead to take the game and match.

Meanwhile, the other big draw in the tournament, Indonesia's Taufik Hidayat, fell to China's Wang Zhengming in the second round. Wang, who won the World Juniors the same year as Saina, in 2008, won a three-game battle and will take on current World Junior champion Viktor Axelsen of Denmark. Others to make the quarters included world champion Lin Dan and Denmark's Peter Gade, apart from two other Chinese, Chen Jin and Du Pengyu.

In the women's singles, Saina's vanquisher Cheng faces Denmark's Tine Baun, while three Chinese moved into the quarters. That included world No 1 Wang Shixian, No 3 Wang Xin, and No 2 Wang Yihan.

The day's biggest heartache was reserved for Wang Lin, whose Olympic dream appeared in tatters after a recurrence of a serious knee injury which had kept her sidelined for seven months. Singapore Open officials said Wang had aggravated her damaged left knee and requested hospital treatment.