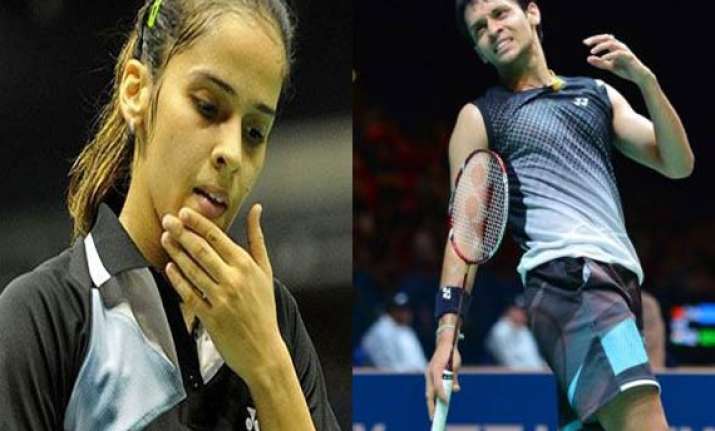 New Delhi: Saina Nehwal and Parupalli Kashyap crashed out of the India Open with straight-game defeats, bringing the home challenge to an end at the USD 250,000 Super Series badminton tournament here today.
World number eight Saina, who reached her maiden Indian Open quarterfinal yesterday, saved four match points against her nemesis Yihan Wang before going down 16-21 14-21 in a 39-minute women's singles contest for her eighth defeat to the Chinese.
Kashyap, on the other hand, brought some cheer to his fans with his efforts on the court even though he could not stop world number one Lee Chong Wei, losing 15-21 13-21 in a 40-minute men's singles match.
Up against a familiar foe in Yihan, Saina tried to put pressure only to falter with her strokes and could not finish off the points. Her strokes were inaccurate and lot of the retrieves got buried at the net.
In the opening game, Saina tried to keep the shuttle on the back of the court but Yihan was more energetic as she glided through the court with ease and retrieved everything which was thrown at her to lead 11-9 at the break.
After the breather, Yihan continued her domination and kept Saina at bay riding on the Indian's errors. Saina's taps were going to the net, and smashes out of the court. Yihan smashed one at the back court to earn four game points and then with Saina hitting out, she earned the bragging rights.
Saina went for her two instant review chances which has been put in place today but on both the occasions she wasted it.
Things didn't change much in the second game as once again Yihan marched ahead to lead 11-4 with the help of precise taps and backhand returns. Saina reeled off four straight points after the breather by engaging Yihan in rallies.